Residents testify Supervisor Ed Jew
wasn't living in Sunset neighborhood home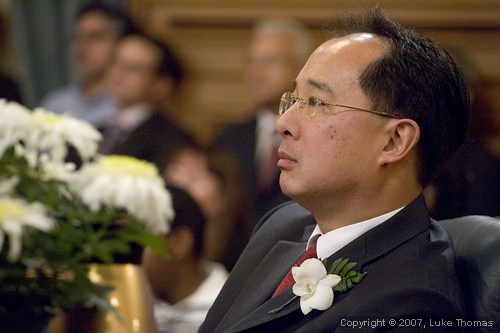 District 4 Supervisor Ed Jew
Photo(s) by Luke Thomas
By Ari Barak
July 27, 2007
Sunset District residents testified Friday at the opening of a preliminary hearing for embattled San Francisco Supervisor Ed Jew that they did not believe Jew had been living in the neighborhood.
Jew has pleaded not guilty to nine felony charges related to alleged violations of the city elections code. Prosecutors question whether he lives inside the district he represents and whether he misrepresented his residence in candidate nominating documents.
Jew has reportedly has been present at his Sunset District home, located at 2450 28th Ave., intermittently since around 1984.
The District 4 supervisor appeared in San Francisco Superior Court Friday morning, smiling and greeting onlookers in the courtroom.
Two residents -- one a male next-door neighbor and the other a woman who lives four doors down -- were questioned by Assistant District Attorney Evan Ackiron. They testified that they barely ever saw Jew at the home, the lights were hardly ever seen going on and off, and garbage cans were never placed outside the home during pickup days.
A Pacific Gas and Electric Co. employee later testified to sparse electrical and gas usage at the residence for several months in 2006.
Jew's attorney Bill Fazio said he believes there is sufficient proof that he satisfied residency requirements prior to running for public office in the November 2006 election.
"The prosecution is barking up the wrong tree in prosecuting Mr. Jew," Fazio said outside the courtroom. Fazio argued that the neighbors' recall may be inaccurate.
Jew has a house in Burlingame, Fazio said, "but his home is in San Francisco."
However, San Francisco City Attorney Dennis Herrera has pointed to evidence suggesting Jew did not fulfill residency requirements to run for city office.
Jew's next-door neighbor in Burlingame Joan Giampaoli testified that for several years she saw Jew leave like clockwork early each morning from his Burlingame home. Even after Jew had been elected in San Francisco, she continued to see him leave from the Burlingame home.
"I thought he was going to move (to San Francisco) because of the election," Giampaoli said. The behavior continued up until news broke in May of an FBI raid at Jew's San Francisco residence, she said.
Jew is the subject of a separate FBI probe into his alleged acceptance of $40,000 in cash from a group of businessmen having permit problems. Jew denies wrongdoing and no federal charges have been filed.
The preliminary hearing is expected to last another three days, continuing Monday at 10 a.m. At its conclusion, Superior Court Judge Harold Kahn will rule on whether there is enough evidence for Jew to stand trial.
Copyright © 2007 by Bay City News, Inc. -- Republication, Rebroadcast or any other Reuse without the express written consent of Bay City News, Inc. is prohibited.
####