JEW RESIGNS
"I cannot continue to fight all the battles"

After a month of negotiations, Defense attorney Stuart Hanlon and City Attorney Dennis Herrera held a press conference today to announce suspended Supervisor Ed Jew's resignation from office effective Friday.
Photos by Luke Thomas
By Julia Cheever
January 10, 2008
Suspended San Francisco Supervisor Ed Jew, who faces criminal fraud and extortion charges in state and federal courts, announced today he is permanently resigning from his city post.
Jew said, "I have decided to resign from my position as supervisor because I feel it is best for my family and for my district under the current situation." He said he reached the decision "with a heavy heart."
Jew, 47, the owner of a Chinatown flower shop, submitted his resignation to the clerk of the Board of Supervisors on Wednesday and it will take effect at noon on Friday.
He made his comments in a statement read by his attorney, Stuart Hanlon, at a news conference at which Hanlon and City Attorney Dennis Herrera announced the resignation.
In exchange for the resignation, Herrera and Mayor Gavin Newsom will drop two separate proceedings in which they sought to oust Jew permanently from the board for allegedly lying about his residence when he ran to represent the city's Sunset District in 2006.
Newsom suspended Jew from office in September while removal proceedings were pending and temporarily appointed budget aide Carmen Chu as Jew's replacement.
Jew is alleged to have lived in Burlingame rather than the Sunset District and to have lied about it when he announced his candidacy and during his first five months in office.
He maintained in his statement that "I am and always have been a San Francisco resident," but said his family moved to San Mateo County for "a short period of time" because his wife wanted to be near her mother and sisters while recovering from breast cancer.
The statement was the first time that Jew's wife's illness was given as a reason for his alleged failure to reside in San Francisco. Hanlon, who has been Jew's sole lawyer only since last month, said he did not know why the information was not released earlier.
Jew will continue to face two criminal prosecutions - state charges of lying about his residence and federal charges of extortion of local businessmen seeking city permits.
Newsom in a separate City Hall news conference said the resignation is "a very good thing for the city" and said he wished Jew had resigned last year when the residency and extortion allegations arose.
He said that while the cloud over Jew has affected the supervisor's family, it also "affected everybody in the city."
Although it has not yet been determined whether Jew is guilty of the criminal charges, "what he is alleged to have done is simply unacceptable," the mayor said.

Mayor Gavin Newsom
The city's action in seeking Jew's removal "sends a message we're not going to put up with this," Newsom said.
The mayor said he would confer with Chu this afternoon on whether she wishes to continue in the post and said she is "clearly a frontrunner" if she wants the position.
He said he will announce a permanent replacement for Jew shortly, possibly as soon as noon on Friday when the job officially becomes vacant.
The replacement will be in office until an election in November.
The two now-dismissed removal proceedings were misconduct charges filed by Newsom with the city Ethics Commission in September and a separate Superior Court lawsuit filed by Herrera in November.
In the ethics case, the commission was mandated by the city charter to hold a hearing on the administrative charges and make a recommendation to the Board of Supervisors on whether to oust Jew from office. In the civil lawsuit, a judge would have ruled on whether to remove him.
Herrera said, "This is not a day to claim victory or vindication, but rather a day to put acrimony behind us."
Jew said in his statement that the costs of defending the two criminal cases in addition to the removal proceedings were "overwhelming" and said, "I cannot continue to fight all the battles."
He said he also wanted to end the costs to taxpayers. Herrera said his office's costs in the removal case were $300,000.
Under the agreement, Jew can't run for public office again for five years, or for 10 years if he is convicted of a felony. Hanlon said Jew has decided never to run for office again in any case.
The attorney said Jew is dedicated to public service, but said, "He is naive in a lot of ways and it didn't work out." Hanlon said he advised Jew not to attend the news conference because of the pending criminal charges.
In the state criminal case filed by District Attorney Kamala Harris, Jew faces nine state felony counts of perjury, election code violations, voter fraud and providing false documents related to his residence.
In the federal criminal case, Jew is accused of mail fraud, bribery and extortion in connection with an alleged scheme to solicit $84,000 from the owners of eight tapioca drink shops and a dessert cafe in exchange for help in obtaining city permits.
A status conference in that case is scheduled before the trial judge, U.S. District Judge Susan Illston of San Francisco, later this month.
Hanlon said, "We're trying to figure a way out" of the criminal cases, but said it was too soon to predict whether they will end in trials or resolutions such as a plea agreement.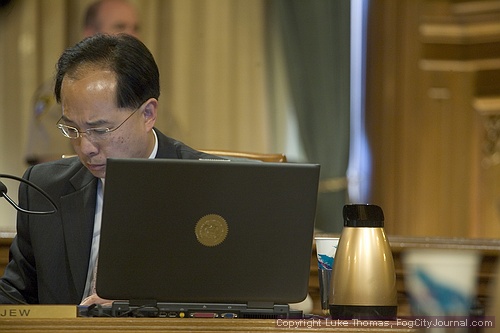 Supervisor Ed Jew.
Copyright © 2007 by Bay City News, Inc. -- Republication, Rebroadcast or any other Reuse without the express written consent of Bay City News, Inc. is prohibited.
####