Jew's attorney comments on upcoming trial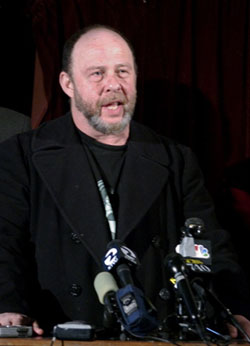 Attorney Stuart Hanlon
Photo by Scott Braley
Committee for Defense of Human Rights
By Maya Strausberg
October 19, 2007
An almost jovial Ed Jew arrived at San Francisco Superior Court today with his new attorney, Stuart Hanlon, who told reporters outside the courtroom that the suspended San Francisco supervisor has been "attacked on all fronts."
"I think (this case) is really strong," Hanlon said. "I think Mr. Jew is innocent."
Hanlon will be defending Jew against criminal charges that allege Jew lived in a district other than the one he represents. He replaces Bill Fazio, who said he withdrew as Jew's attorney because the supervisor had stopped returning calls and e-mails and was not being cooperative.
Jew pleaded not guilty Aug. 20 to the nine felony charges he is facing in connection with alleged violations of the city election code. There have been questions as to whether Jew actually lived in the district that he represented and whether he misrepresented his residence in candidate nominating documents.
Jew appeared light-hearted in court, with a dark blue suit and constant smile. He made jokes and wouldn't comment on the case, telling reporters they would have to speak with his attorney.
Jew's trial date will be decided Nov. 5.
Hanlon waved off questions of whether he had enough time to organize a defense.
"I have to get familiar with the facts," he said. "I will be ready for trial at that point."
When asked what he has been doing to fill his time, Jew would only comment on spending more time with his daughter.
"I think I'm a pretty good teacher," he joked. "My cooking has improved a lot."
Copyright © 2007 by Bay City News, Inc. -- Republication, Rebroadcast or any other Reuse without the express written consent of Bay City News, Inc. is prohibited.
####