Newsom ousts Jew,
names Carmen Chu as interim replacement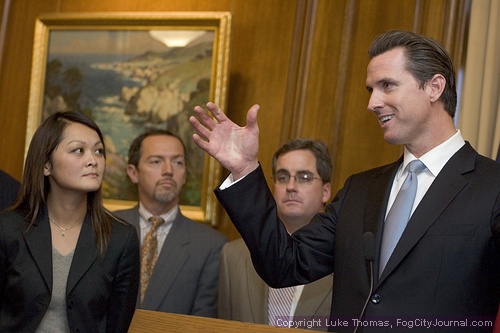 Mayor Gavin Newsom announced today he has officially suspended embattled District 4 Supervisor Ed Jew and named Carmen Chu (left) as Jew's interim replacement.
Photo(s) by Luke Thomas
By Caitlin Cassady
September 25, 2007
Moments after San Francisco Mayor Gavin Newsom announced Carmen Chu as his appointment as the interim San Francisco District 4 supervisor, she took center stage, stating that she has a "passion for policy.''
Chu was unfazed by the flashing cameras as she thanked the mayor for his belief in her abilities, and vowed to "advance things people care about in District 4.''
Chu was sworn in at 10:30 a.m. today and will attend her first meeting as supervisor at today's regularly scheduled 2 p.m. board meeting.
Chu's appointment comes after former supervisor Ed Jew was served with suspension papers at his Chinatown flower shop this morning.
Newsom praised Chu for her integrity, and said he believes that she will "hit the ground running.'' He chose her as an interim supervisor, not only for her extensive political work, but because she doesn't belong to a "specific political camp.''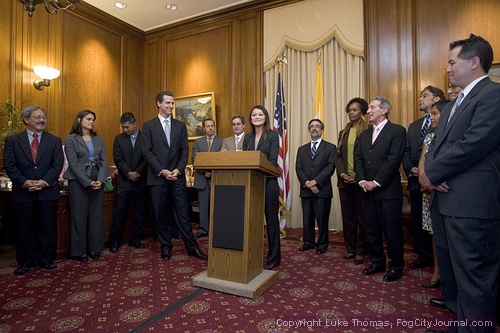 "She is not a politician in the traditional sense of the word,'' Newsom said of Chu. "She comes from a policy background and brings a unique perspective to the position.''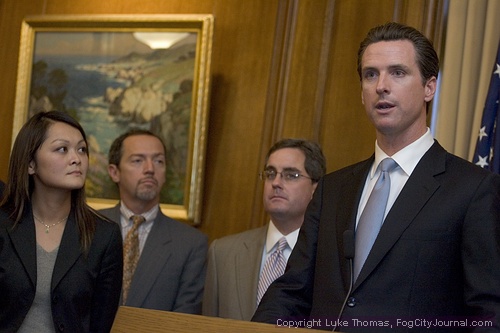 Chu has served the Newsom administration since 2004, when she started working as a budget analyst. She has served as deputy director of Newsom's Office of Policy and Finance since Oct. 2006, according to the mayor's office.
"She understands the internal workings of city government,'' Newsom said. He added in an aside that a major advantage Chu will bring to the position is her in-depth understanding of the city budget.
As deputy director Chu has overseen the budget for Newsom's universal health care program, "Healthy San Francisco.''
Chu has earned two degrees in public policy, according to the mayor's office. She holds a B.A. from Occidental College and a Master's degree from the University of California at Berkeley's Goldman school of Public Policy where she won a Public Policy and International Affairs fellowship.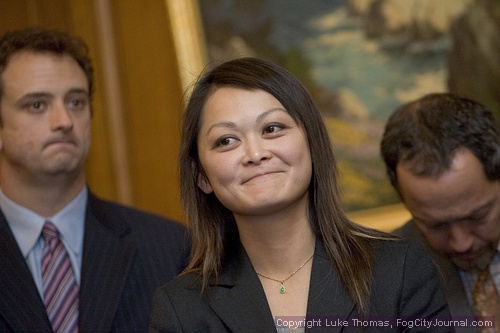 Supervisor Ed Jew was served papers at 8:48 a.m. in his flower shop at Waverly Place, outlining the charges that are being brought against him and suspending him from office for engaging in official misconduct, City Attorney Dennis Herrera said.
Official charges against Jew were filed, Herrera said, with the majority of the charges focusing on local and home rule that fall under the San Francisco city charter. However, he added, he has taken federal charges filed against Jew into account and "reserves the right to extend charges if new evidence arises.''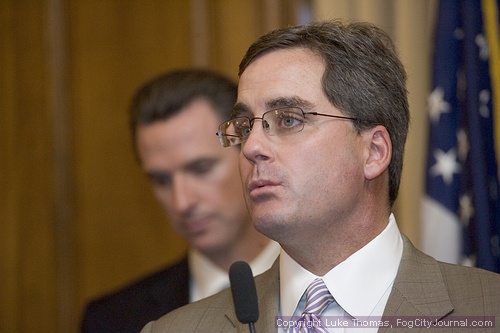 City Attorney Dennis Herrera
Jew has not been removed from office, merely suspended pending an investigation by the Ethics Commission of the City and County of San Francisco. The commission will hold a hearing on the charges filed, and then transmit their recommendation to the Board of Supervisors, who will vote whether to officially remove Jew from office.
Chu will not have a vote in the decision to remove Jew, board of supervisors President Aaron Peskin said. In order to remove him from the board nine out of 10 board members must vote to sustain the charges against Jew.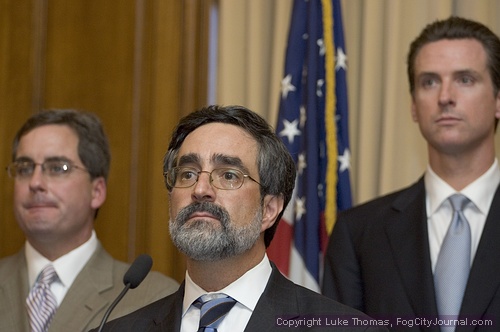 Board President Aaron Peskin
Newsom elaborated on his decision to suspend Jew from office by saying he doesn't "think that (Jew) can govern and defend himself at the same time . . . he needs to focus on his individual future.''
Jew, 47, is facing state criminal charges for allegedly lying about living in the Sunset District, the district which he represented. His pending San Francisco Superior Court case on nine felony charges, including falsely claiming residency in San Francisco and lying on official documents leading up to a successful bid for a seat representing the Sunset, was postponed Wednesday and is now scheduled for Oct. 26.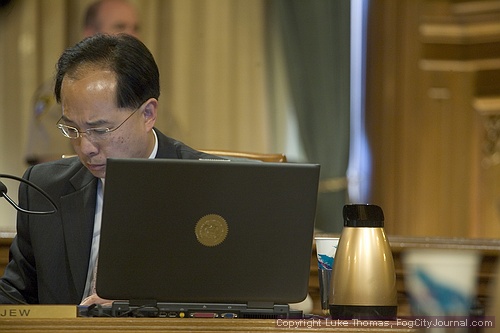 Suspended Supervisor Ed Jew
Jew was further hit Thursday with separate federal charges of mail fraud for allegedly soliciting a $40,000 bribe to help a tapioca drink business obtain permits. He pleaded not guilty to the fraud charges before U.S. Magistrate Elizabeth Laporte in San Francisco on Friday and is currently free on $1 million bail. A preliminary hearing is scheduled for Oct. 11.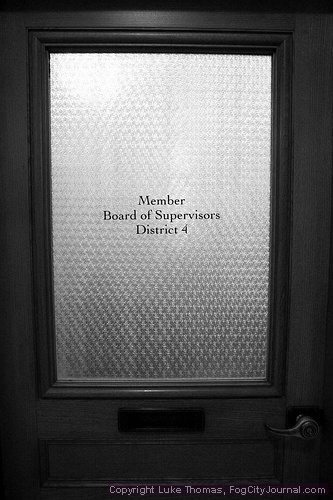 Copyright © 2007 by Bay City News, Inc. -- Republication, Rebroadcast or any other Reuse without the express written consent of Bay City News, Inc. is prohibited.
####