"Irreconcilable differences"
prompts Ed Jew attorney to withdraw
from criminal case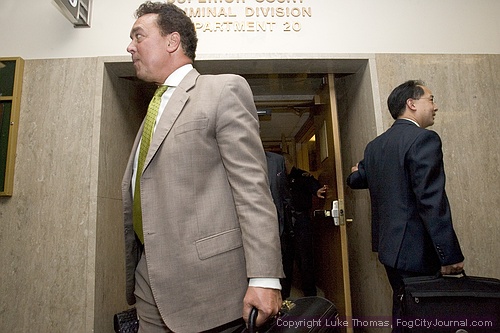 Going their separate ways -- defense attorney Bill Fazio (left), filed a motion today
in San Francisco Superior Court to withdraw himself as counsel
for suspended Supervisor Ed Jew's (right) criminal case.
Photo(s) by Luke Thomas
By Caitlin Cassady
October 3, 2007
Attorney Bill Fazio filed a motion this morning in San Francisco Superior Court to withdraw himself as counsel for Supervisor Ed Jew's criminal case.
Reached for comment, Fazio told Fog City Journal: "Because of irreconcilable differences with my client, I am asking the court to allow me to withdraw from the case."
Jew is facing nine felony charges in connection with alleged violations of the city election code. There is a question of whether Jew actually lives in the district that he represents, and whether he misrepresented his residence in candidate nominating documents, according to San Francisco District Attorney Kamala Harris.
A court date for Jew's criminal charges was postponed until Oct. 26, because Fazio needed more time to review the evidence.
A hearing is scheduled Friday morning in Superior Court to formalize the motion, according to a court clerk. .
Luke Thomas contributed to this report.
Copyright © 2007 by Bay City News, Inc. -- Republication, Rebroadcast or any other Reuse without the express written consent of Bay City News, Inc. is prohibited.
####