"My client has refused to cooperate"
Judge accepts attorney withdrawal from Jew criminal case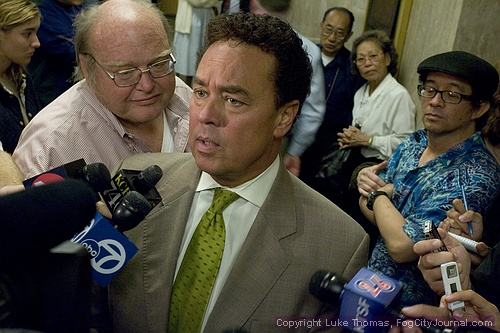 A Superior Court judge today accepted defense attorney Bill Fazio's withdrawal
from Supervisor Ed Jew's criminal case.
Photo(s) by Luke Thomas
By Ari Burack, 12:06 p.m.
October 5, 2007
Irreconcilable differences claimed yet another attorney-client relationship today as a San Francisco Superior Court judge allowed Supervisor Ed Jew's attorney to withdraw as his lawyer in Jew's election fraud case.
"My client has refused to cooperate," Jew's attorney Bill Fazio told a judge this morning. "He hasn't returned my calls."
Jew's Oct. 26 trial date, already postponed once in September, will again be pushed back while Jew seeks new representation. He was ordered this morning to return to court Oct. 19 with a new attorney to set a new trial date.
Jew is facing nine felony charges in connection with alleged violations of the city election code. There is a question of whether Jew actually lives in the district that he represents and whether he misrepresented his residence in candidate nominating documents.
Outside the courtroom, Fazio cited "irreconcilable differences," claiming that Jew hadn't returned his calls or e-mails for about a week and a half.
"For whatever reason, communication broke down," Fazio said. He added that he never asked Jew to plead guilty to any of the charges against him.
According to reliable sources, Jew is seeking the representation of attorney Scott Sugarman to replace Fazio.
Sugarman was not immediately available for comment.
Luke Thomas contributed to this report.
Copyright © 2007 by Bay City News, Inc. -- Republication, Rebroadcast or any other Reuse without the express written consent of Bay City News, Inc. is prohibited.
####