Air show, ships, recruitment drive,
return to San Francisco during fleet week
Airbus A380 to perform waterfront flyby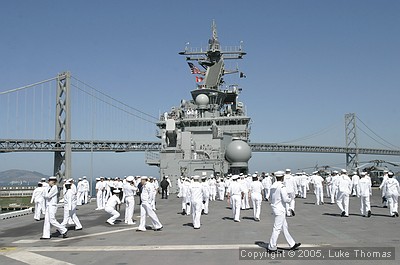 Photo(s) by Luke Thomas
By Caitlin Cassady

October 2, 2007
The U.S. Navy's Blue Angels is set to take to the skies in San Francisco this weekend, donning its aerial acrobatics for throngs of onlookers attending the city's 26th annual Fleet Week.
Air demonstrations will take place Saturday and Sunday, starting at 1 p.m. and Navy pilots will be joined by the U.S. F-16 Viper West and Patriot jet demonstration teams, the U.S. Air Force's F-22A Raptor A-10 and the U.S. Coast Guard helicopter. Blue Angels performances will take place at 3 p.m. each day.
As part of Friday's show, Airbus will fly their new A380 over the waterfront crowds to demonstrate the latest development in "high capacity, long-range aircraft.'' The new Airbus plane is visiting San Francisco International Airport this week to salute San Francisco's importance as a travel gateway for the world.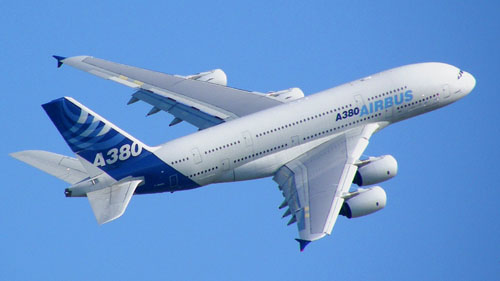 Photo courtesy Wikipedia
The Blue Angels will be arriving at SFO Thursday around 10:30 a.m., SFO spokesman Mike McCarron said. The pilots will hold two practice sessions over the San Francisco Bay Thursday and Friday, and perform for Fleet Week crowds on Saturday and Sunday.
San Francisco Supervisor Chris Daly, who recently attempted to pass a resolution blocking the Blue Angels air show from participating in Fleet Week due to safety concerns, will not be among the swarm of people at the wharf to view the show.
Daly has been to previous air shows and said that while the shows are technically exciting, and the aerial maneuvers are "impressive,'' he is "not planning on attending this year.''
Daly also mentioned that he is glad the "women and men of the U.S. Navy get exposed to the culture of San Francisco each year.''
Naval ships will dot San Francisco piers during Fleet Week and will be open to the public for free tours from Sunday through Tuesday, according to the event Web site. The USS Vandergrift is scheduled to be at Pier 35 North, the USS Shoup is scheduled to be at Pier 35 South, and five other ships will be at Pier 27.
Tours of the ships will run from noon to 4 p.m., and will be guided by members of the ship's crew.
Fleet week begins Thursday and runs through Oct. 9, according to the event Web site. The celebrations include air shows, tours of Navy ships, the Italian Heritage Parade, concerts and fireworks, as well as celebrations at Pier 39, Marina Green and Aquatic Park.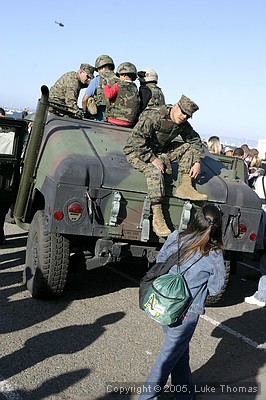 More information about Fleet Week events can be found at: http://fleetweek.us/fleetweek.
####