Fong reports community policing progress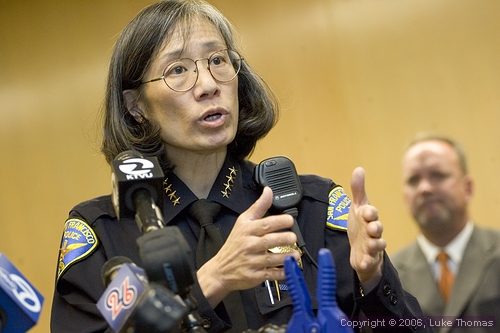 San Francisco Police Chief Heather Fong
Photo(s) by Luke Thomas
By Brent Begin, Bay City News Service

December 5, 2006
SAN FRANCISCO (BCN) - San Francisco police Chief Heather Fong released a 150 page report yesterday summarizing more than a year's worth of efforts to make the department more community friendly.
The report comes a day before the Board of Supervisors is scheduled to look into a foot patrol program in which a veto by Mayor Gavin Newsom was overturned by supervisors.
According to the report, each district station throughout the city has been working in the last year to implement different plans that improve the relationship between officers and residents.
In the Bayview District, where almost a quarter of the city's homicides occurred this year, Capt. Albert Pardini is concentrating on getting more officers on the streets. Pardini also reported that officers would work on dealing with truant youths and lighting issues along with working alongside community groups.
At the city's Central Station, on the other hand, officers were told to make robbery abatement a priority by working with residents in identifying repeat offenders who move through neighborhoods such as North Beach and Fisherman's Wharf.
The department's "community policing philosophy" also includes a renewed emphasis on foot patrols. Fong announced earlier this month that she had freed up 44 administrative positions within the department and those officers would contribute to the beat plans.
How the chief's plan will mesh with the Board of Supervisors' legislation has yet to be seen. The Supervisor Ross Mirkarimi plan requires the chief to provide regular progress reports throughout the yearlong pilot program.
In a statement, Newsom said the multitude of programs, which have been implemented since August 2005, are ways of getting city residents involved in their own safety.
"Clearly, government alone cannot keep our communities safe," Newsom said. "It is only through true collaboration and partnership with local residents that we can ensure public safety."
According to Fong, this emphasis on community policing is an ongoing priority for the department.
"The Police Department has long engaged in community policing activities and believes that only a true partnership with community members will we be able to make our streets safer," Fong said in a statement.
Copyright © 2006 by Bay City News, Inc. -- Republication, Rebroadcast or any other Reuse without the express written consent of Bay City News, Inc. is prohibited.

####