Fong, SFPD captains, POA, join Newsom in opposing popular foot patrol legislation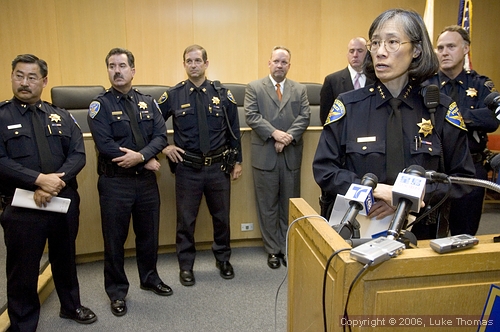 SFPD Chief Heather Fong stands with several district captains and POA President Gary Delagnes in support of Mayor Newsom's veto of popular foot patrol legislation mandating foot patrols in areas most impacted by violent crime. The press conference was called earlier today on the eve of Tuesday's Board of Supervisors meeting where Supervisors will vote to either sustain or override the veto.
Photo(s) by Luke Thomas
By Brent Begin, Bay City News Service
November 13, 2006
SAN FRANCISCO (BCN) - San Francisco Police Chief Heather Fong unveiled a department plan today to put 44 officers on daily foot patrols throughout the city, trumping recently vetoed beat patrol legislation passed by the Board of Supervisors.
In a room filled with department captains, Fong stopped short of saying whether or not she would comply with legislation if supervisors pull together the eight votes required to overturn Mayor Gavin Newsom's veto.
"I believe that legislation is not necessary to dictate to captains of police -- who, if you look at all the captains who are here, there's over 250 years of experience -- in terms of applying resources within their districts," Fong said.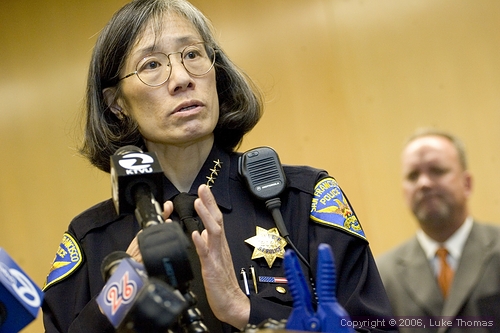 Police Chief Heather Fong
Fong said the department plan will go "above and beyond" the legislation, which calls for a yearlong pilot program in eight of the city's 10 police districts. She added that the department plan will provide a flexibility that legislation can't provide.
The plan was outlined on a map of the city marked with red lines in neighborhoods where the patrols will begin starting Nov. 24.
They include Fisherman's Wharf and Union Square in Central station, where two officers will be assigned, and the mid-Market Street area of the Southern station, where five additional officers will be assigned.
In the Bayview station, three more officers will be assigned to San Bruno Avenue and Potrero Hill. In Mission station, six officers will be assigned to the 24th and 16th streets areas.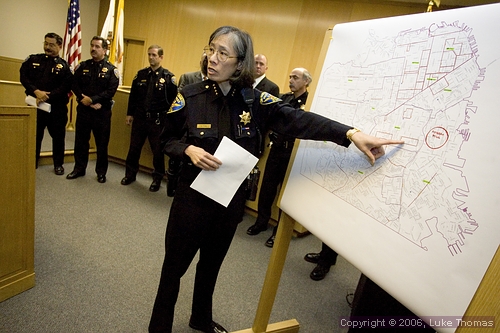 Four more officers will be assigned to Northern station, and three officers will work the Western Addition, Lower Haight and Upper Haight.
In the Richmond station, two officers will cover Clement Street and Geary Boulevard. At Ingleside station, eight officers will work Mission Street between Cesar Chavez Street and Richland Avenue and Silver and Geneva avenues.
In Taraval station, four officers will work along Randolph Street and the outer Mission area, and finally, at Tenderloin station, seven officers will be added to the beat.
All the officers were freed up from administrative positions within the department that were civilianized in the last few months, according to Fong.
Police Officer Association President Gary Delagnes also offered his support today, criticizing the Board of Supervisors' plan.
"This is an ill-advised attempt by the board to become involved in our affairs," Delagnes said. "They're not professionals. They don't understand what we do, in many instances, and I believe they should leave the decisions up to the people who are paid to make those decisions."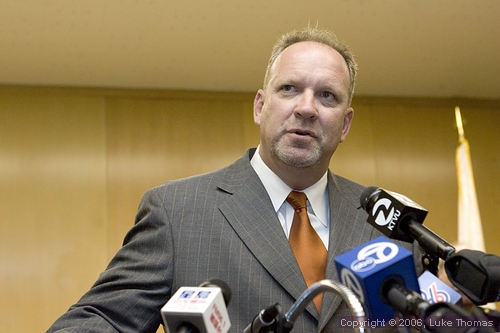 POA President Gary Delagnes
Supervisor Ross Mirkarimi, who sponsored the foot patrol legislation, said of Fong's comments, "Chief Fong, with all due respect, is putting politics before public safety. The captains have always had discretion in applying resources to foot beats.
"We just want to build-in a level of accountability and oversight for the benefit of increased public safety in those areas that will benefit the most from police foot patrols."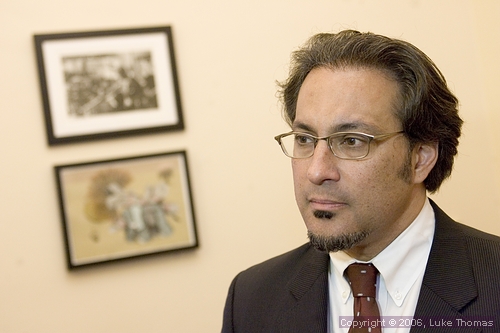 Supervisor Ross Mirkarimi.
Mayor's Office of Communications Director Peter Ragone said of the decision by Newsom to veto the legislation, "We think it's bad legislation and we've been completely transparent."
Luke Thomas contributed to this report.
Copyright © 2006 by Bay City News, Inc. -- Republication, Rebroadcast or any other Reuse without the express written consent of Bay City News, Inc. is prohibited.
####