Onlookers say popularity drove foot patrol veto override

Newsom suffers first veto defeat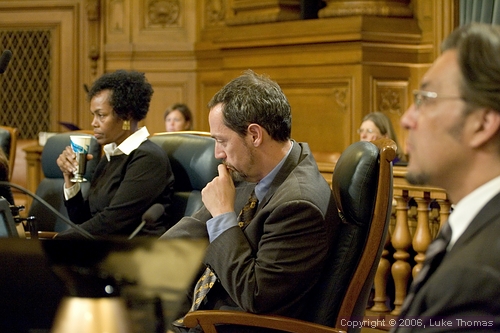 Critical to the overturning of Mayor Newsom's veto of mandatory foot patrols legislation, sponsored by Supervisor Ross Mirkarimi (right), Supervisors (re-elect) Bevan Dufty and Sophie Maxwell maintained their strong support for the popular legislation, and voted accordingly against the veto.
Photo(s) by Luke Thomas
By Emmert Berg, Bay City News Service
November 14, 2006
SAN FRANCISCO (BCN) - Supporters and even an opponent of citywide police foot patrols said today that Mayor Gavin Newsom and his staff were slow to realize the broad public appeal of seeing more cops on San Francisco sidewalks.
The San Francisco Board of Supervisors voted 9-2 today to override a veto by Newsom of the foot patrol plan, a one-year experiment at all 10 police stations starting early next year.
Supervisor Aaron Peskin's vote was the biggest surprise. Peskin had originally voted against the legislation when the amended proposal was first approved on October 17, but today joined supervisors in opposing the veto and supporting the legislation.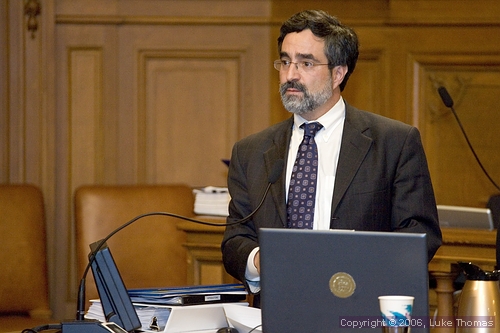 Supervisor Aaron Peskin
It was Newsom's first veto to be overturned. Even an opponent of the plan conceded its popularity.
"There are parts of this city clamoring for foot patrols," said Supervisor Sean Elsbernd.
"The good thing is, finally the (police) chief and the mayor are engaged on this issue."
Elsbernd is seen as an ally of the mayor who consistently voted against the plan as a usurpation of what he said was the chief's role in determining tactics. Elsbernd and Michela Alioto-Pier were the only supervisors to oppose the finalized foot patrol plan first proposed by Supervisor Ross Mirkarimi.
Supervisor Dufty, who was seen as a possible switch-vote going into today's session, eloquently reiterated his ardent support for foot patrols and thanked Supervisor Mirkarimi for shepherding the legislation.
"This city is hungry for strong public safety leadership," Supervisor Bevan Dufty said
"This board is struggling, trying to creatively address problems. We have to step forward because of a leadership gap. It is not a complete answer but it is the best we can do now," he said.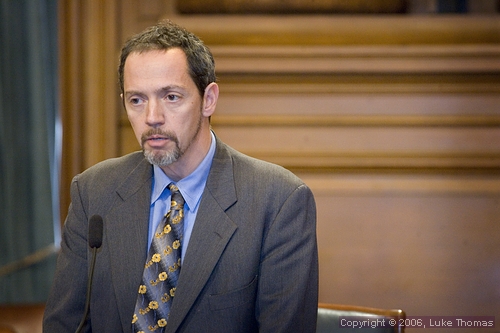 Supervisor Bevan Dufty
Supervisor Sophie Maxwell represents a district that is home to a high percentage of the city's gun violence.
Maxwell said that people she has spoken to from her district, which includes Bayview Hunters Point, demanded to know what was being done about gun violence.
"I have no choice. I have to do this," said Maxwell, who supported the legislation.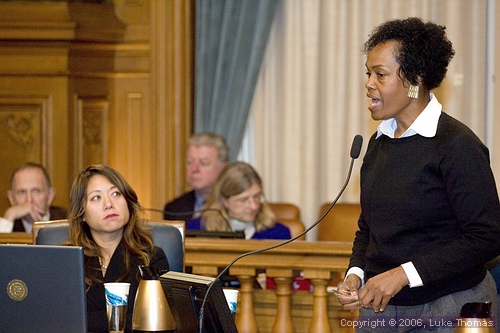 Supervisor Sophie Maxwell (right)
Peter Ragone, spokesman for the mayor, said the plan constituted "bad public policy" and that the city had been increasing foot patrols on its own for two-and-a-half years.
"This has had a lot of political overtones, and its sponsor is probably running for mayor," Ragone said.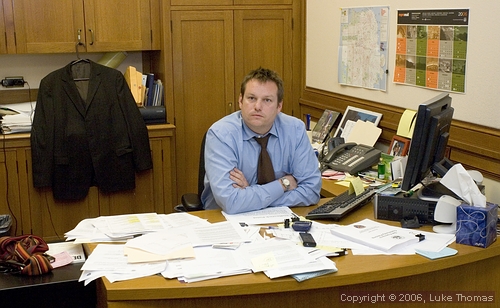 Mayor's Office of Communications Director Peter Ragone
The remark had the sponsor, Mirkarimi, retorting that the Newsom administration were "ostriches" with their heads in the sand.
"I came to them months ago with this legislation," Mirkarimi said.
"They're only saying such things because they are desperate to triage their own negligence. They were hoisted by their own petard."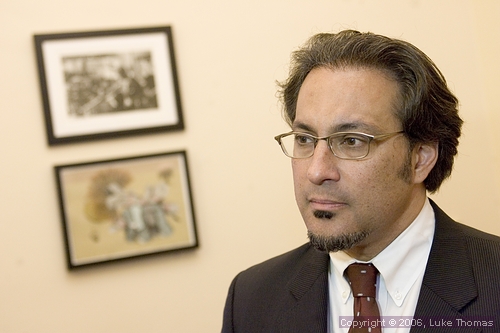 Supervisor Ross Mirkarimi
Luke Thomas contributed to this report.
Copyright © 2006 by Bay City News, Inc. -- Republication, Rebroadcast or any other Reuse without the express written consent of Bay City News, Inc. is prohibited.
####