Residents protest proposed gang injunctions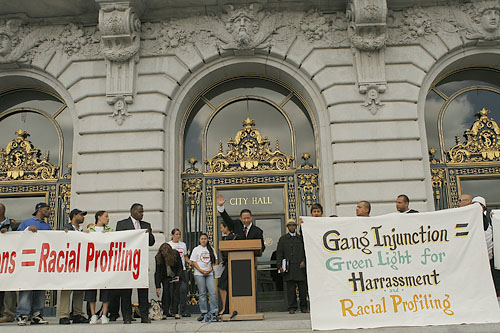 San Francisco Public Defender Jeff Adachi led a rally in San Francisco today
to oppose the City Attorney's proposed gang injunctions.
Resident are concerned the policy will lead to racial profiling.
Photo(s) by John Han
By Elizabeth Daley
July 12, 2007
San Francisco City Attorney Dennis Herrera today submitted an injunction against 76 alleged gang members that would require them to cease gang-related activity in areas of the Mission District and the Western Addition recently plagued with violence.
The injunction was filed against members of the Eddy Rock, Chopper City, Knock Out Posse and the Nortenos gangs.
A group of concerned residents gathered today at City Hall to protest the plan, which they believe will be difficult to enforce and could lead to racial profiling.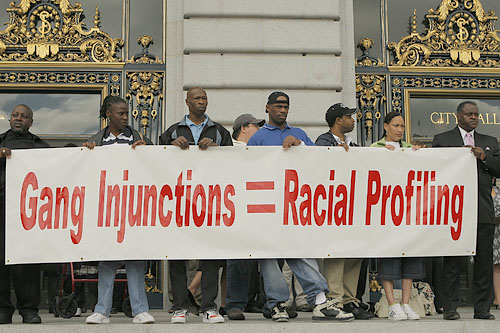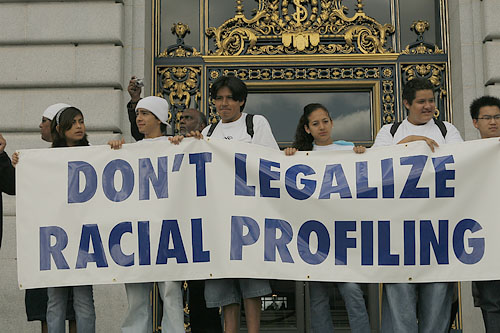 The injunctions allow the presumption of guilt "without the safeguards of the criminal system, " said Juniper Lesnik, an attorney from the American Civil Liberties Union.
Lesnik said the ACLU had set up a hot line for persons detained, hassled, or listed as gang members should the injunction take effect.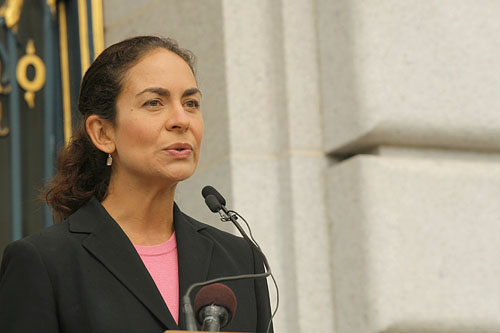 Juniper Lesnik
However, Matt Dorsey, a spokesman for Herrera, said there were "a number of allegations made at the rally that don't reflect what an injunction is."
"This is far from a blanket scattershot request for an injunction, this is extremely well documented," Dorsey said. He said it only names the most active known adult gang members.
"Is this really about saving lives?" asked Minister Christopher Mohamed of San Francisco's Bayview District. "If you are going to have an injunction, have it against the biggest gang in town, the San Francisco Police Department Gang Task Force."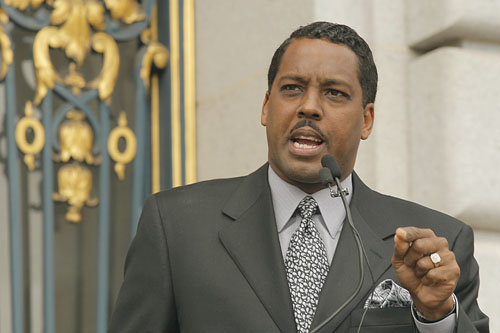 Minister Christopher Mohamed
Mohamed blamed the undercover gang task force for instigating violence by baiting teenagers or dropping them in unfamiliar neighborhoods, in the hopes of stirring up gang activity.
He said that historically gang injunctions were driven by corporate development interests.
Others said the efforts by anti-gang officials to abate violence in the Mission and Western Addition districts go too far and only push crime elsewhere.
Mission District homeowner and life-long resident Roberto Hernandez said police harassment was a historical problem.
Hernandez expressed anger at the gentrification of his neighborhood by "white hipsters," and lamented the closing of area schools, saying, "There are no more children left to educate."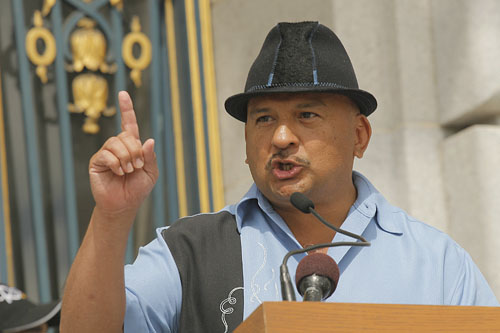 Roberto Hernandez
While the rally aimed at preventing the gang injunction, residents from the impacted neighborhoods asked why officials did not try to fix problems that lead to gang violence, such as poverty, rather than criminalize youth.
"Why is there a liquor store on every corner," asked one youth activist, but not enough programs to help youth.
"It doesn't surprise me that there is a small element that doesn't think gang violence is a serious problem, but for the neighborhoods caught in the cross fire it is a serious problem," said Dorsey.
"There have been 15 shootings this month alone, so anyone who claims to speak on behalf of the community who says we are doing enough to rid our neighborhood of gang violence is not listening to the community," Dorsey said.
If a judge signs off, the new injunctions would join an existing injunction in place in Bayview Hunters Point against members of the Oakdale Mob gang.
Among other things, the injunction would prohibit gang members with nicknames such as "Mousey," "Pee Wee," or "Triste," from wearing red clothing or carrying felt tip markers. Violating the injunction could lead to jail time or fines.
When asked if the injunction could be compared to McCarthyism, Dorsey said, "Joe McCarthy was famous for saying he has lists of communists and never producing the list, this is a case where we have identified the members and proven they are gang members and routinely violate the law, they have an opportunity to respond to these allegations in court."
"Given the choice, we would rather have communists on our streets," he added.
Copyright © 2007 by Bay City News, Inc. -- Republication, Rebroadcast or any other Reuse without the express written consent of Bay City News, Inc. is prohibited.
####