Judges mull requests for two gang injunctions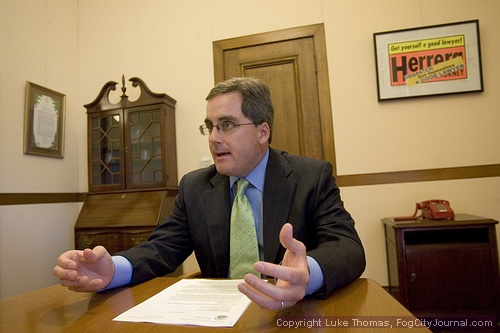 San Francisco City Attorney Dennis Herrera held a press conference today to discuss
two civil injunctions aimed at limiting activities by alleged gang members.
Photo(s) by Luke Thomas
By Julia Cheever
September 18, 2007
Two San Francisco Superior Court judges heard arguments today but delayed ruling on requests by city lawyers for civil injunctions that would limit activities by alleged gang members in the Mission and Western Addition districts.
Judges Patrick Mahoney and Peter Busch took the two cases under submission and have 90 days to issue written decisions.
The injunctions, if granted, would be the second and third obtained by the city under the state's public nuisance law. The use of such injunctions against gang members was upheld by the California Supreme Court in 1997.
Last year, Busch issued an injunction restricting actions of 22 alleged members of the Oakdale Mob in four blocks of the Bayview-Hunters Point district.
The new orders sought by City Attorney Dennis Herrera would bar 76 members of four gangs from associating with one another, wearing gang symbols and engaging in nuisances and crimes in 60 blocks of the Mission district and 12 blocks of the Western Addition. Named members of the Norteno gang in the Mission would also face a nighttime curfew.
Herrera said outside of court, "This is an effort to do what we can to stem the tide of gang violence.
"We're targeting individuals on whom we have evidence that they were terrorizing a community," the city attorney said.
Lawsuits filed by city lawyers in June charge the alleged gang members create a dangerous public nuisance through drug dealing, shootings, stabbings, robberies, graffiti vandalism, trespassing and intimidation.
The targeted individuals are 32 alleged Norteno gang members in the Mission and 44 alleged members of the Eddy Rock, Chopper City and Knockout Posse gangs in the Western Addition.
San Francisco Public Defender Jeff Adachi, who opposed the injunction requests on behalf of two individuals, said he believes gang injunctions aren't effective and simply move gang activities to other areas.
"These resources are better placed in providing community-based interventions," Adachi said.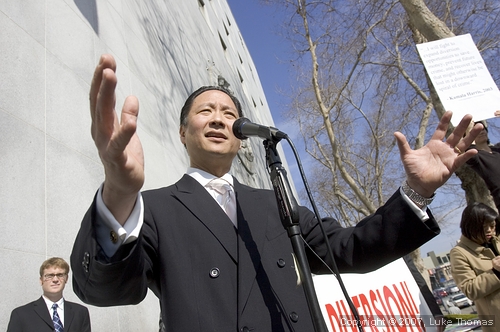 San Francisco Public Defender Jeff Adachi
Adachi said his clients - Antonio Buitrago, a 22-year-old tow-truck driver and rap artist and Makia Johnson, 19 - deny that they have ever been members of the Norteno and Knockout Posse gangs as alleged in the lawsuits.
The public defender also claims the proposed injunctions would violate the constitutional right of free association and are too broad.
Adachi said some community groups fear the orders would lead to racial harassment and profiling. He said he personally believes "the sweeping police powers that the injunctions make possible raise the specter and real possibility of racial profiling."
Herrera, who sent Adachi a letter this morning asking him to repudiate alleged "inflammatory rhetoric" on racial matters, said this afternoon, "I think that does everybody a tremendous disservice."
The city attorney said, "We're trying to protect communities of San Francisco," many of which are made up of minority group members.
The proposed injunctions would bar named gang members from associating with each other except in school or church and engaging in nuisance activities such as loitering, trespassing, intimidation, defacing property with graffiti, gang recruitment, and display of gang signs or symbols, including the color red in the Norteno area.
Crimes such as possession of drugs, graffiti implements and guns would also be covered by the injunction.
A curfew for named Norteno gang members would be in effect from 10 p.m. until sunrise, except for travel to work, religious services, medical appointments or emergencies.
The injunctions could be enforced through either civil contempt of court, with jail sentences of up to five days, or prosecution for a criminal misdemeanor, with jail sentences of up to six months.
The injunction granted by Busch last year in the Oakdale case included a night curfew, but the judge moved the starting time from the 10 p.m. time requested by Herrera to midnight.
Los Angeles County currently has about 30 gang injunctions in effect, Hadachi said.
Herrera said he hopes the city will use civil injunctions "minimally, as exceptions to the rule" in the future, but said, "When it gets to the point where the community is crying out for a response, I reserve the right to use it."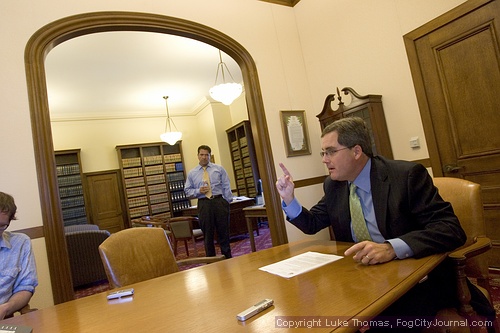 Copyright © 2007 by Bay City News, Inc. -- Republication, Rebroadcast or any other Reuse without the express written consent of Bay City News, Inc. is prohibited.
####