Berkeley 'Big Bang' cosmologist wins Nobel Prize
in physics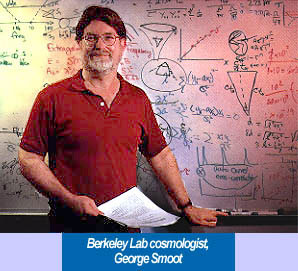 Nobel Prize winner in physics, George Smoot.
Photo courtesy The Cosmic Village
By Erica Holt, Bay City News Service
October 3, 2006
A University of California at Berkeley cosmologist is one of two men to be awarded the 2006 Nobel Prize in Physics for leading a team that shed light on the "Big Bang'' theory, the second Bay Area man to be awarded this year's prize, the Royal Swedish Academy of Sciences announced today.
George Smoot, 61, a UC Berkeley professor of physics, and John Mather, 60, won the prize for leading research beginning in 1989 that helped support a theory that the beginning of the universe was accompanied by an explosion, according to the academy.

"They announced in 1992 discovery of residual heat from the explosion, in addition to variations in the temperature across the sky that indicated the beginnings of structure in the early universe,'' UC Berkeley Spokesman Robert Sanders wrote in a statement.
Smoot's former colleague Mather is a graduate of UC Berkeley and now a senior astrophysicist at NASA's Goddard Space Flight Center in Maryland.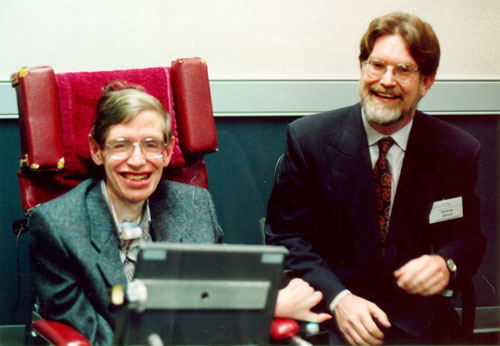 Professor George Smoot pictured with Steve Hawking, circa 1993
Photo courtesy The Smoot Group
On Monday, Stanford University Professor of Pathology and Genetics Andrew Fire was awarded the prize in Physiology or Medicine for discovering a mechanism that turns off, or silences, the effect of certain genes, thereby introducing potential new opportunities for fighting diseases as varied as cancer, heart disease, HIV and hepatitis. Fire, 47, shares the $1.4 million Swedish prize with Craig Mello, 45, of the University of Massachusetts Medical School in Worcester, Mass.
Copyright © 2006 by Bay City News, Inc. -- Republication, Rebroadcast or any other Reuse without the express written consent of Bay City News, Inc. is prohibited.

####