Newsom urges release of funds
for gunfire detection system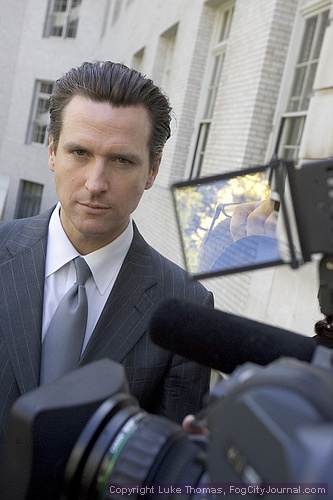 Mayor Gavin Newsom
Photo(s) by Luke Thomas

By Maya Strausberg
September 13, 2007
San Francisco Mayor Gavin Newsom and members of the San Francisco Police Department yesterday urged the Board of Supervisors to release funds totaling $400,000 for a ShotSpotter system.
The ShotSpotter Gunshot Location System would use sensors in the Northern and Bayview police districts, as well as the administrative offices of the Bayview and Northern police stations and four supervisory patrol cars, to detect and locate gunfire within seconds.
The funds in question were put on reserve by the Board earlier this year, pending a funding plan. The Mayor's Office said that it will present a funding plan in the coming weeks.
The money would be used to cover the cost of the purchase, setup, training, monitoring and coverage of the ShotSpotter.
Currently the system is being used in 17 U.S. cities, including Los Angeles, Redwood City and Oakland. It can detect shots fired within one to two miles of the sensors.
Copyright © 2007 by Bay City News, Inc. -- Republication, Rebroadcast or any other Reuse without the express written consent of Bay City News, Inc. is prohibited.
####