Two dead, two in custody
following Haight-Ashbury crash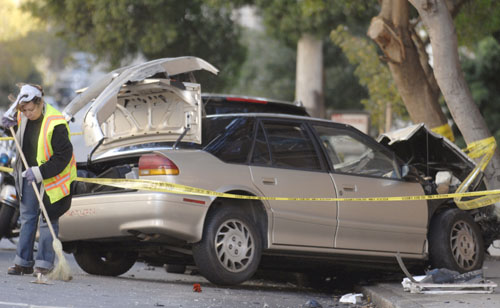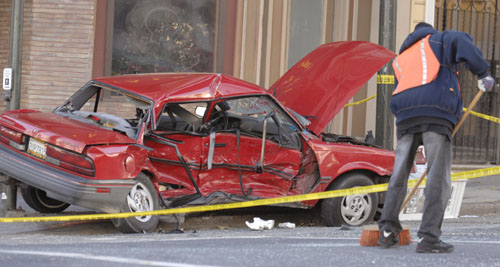 Two people died this morning after an alleged stolen Silver Saturn ran a red light
in the Haight-Ashbury district of San Francisco.
Photos by Stephen Dorion Miner
By Laura Dudnick
December 11, 2007
Two people are dead and two others are in custody after a silver Saturn ran a red light and plowed into another car this morning in San Francisco, according to San Francisco Police Sgt. Steve Mannina.
Officers patrolling the neighborhoods of Haight-Ashbury and Hayes Valley, specifically the area of Page and Broderick streets, spotted a silver Saturn around 4 a.m. and ran a check on the car's license plate, Mannina said.
The Saturn was allegedly reported stolen and the officers activated their lights in an attempt to stop the car, according to Mannina.
But the Saturn continued to travel eastbound on Page Street, Mannina said.
At the intersection of Page and Divisadero streets, the Saturn collided with a red Chevrolet that was traveling southbound on Divisadero Street, according to Mannina.
One person in the Chevrolet was pronounced dead at the scene, Mannina said. The other person in the car was taken to a hospital and was ultimately pronounced dead, Mannina added.
Both victims are believed to be males, according to Mannina.
The two people in the Saturn were treated for minor injuries at San Francisco General Hospital and taken into custody, Mannina said.
Officials are investigating the incident to determine what charges will be filed, Mannina said.
Divisadero Street between Oak and Haight streets, and Page Street between Broderick and Scott streets have been shut down while an officials tend to the scene. The streets are expected to reopen around 8:30 a.m.
The San Francisco Municipal Transportation Agency bus 24-Divisadero is unable to stop at its northbound Haight street stop due to the crash, according to Muni spokesman Alan Siegel.
Copyright © 2007 by Bay City News, Inc. -- Republication, Rebroadcast or any other Reuse without the express written consent of Bay City News, Inc. is prohibited.
####