Community group
discusses Halloween safety procedures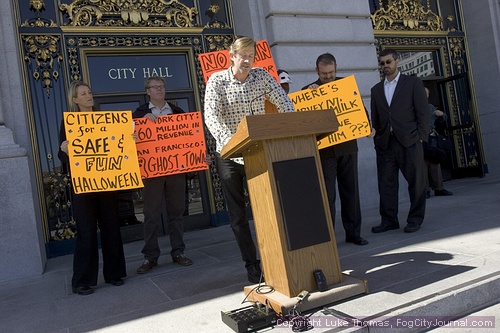 San Francisco Halloween activists Alix Rosenthal, Ted Strawser, Gary Virginia,
Rick Galbreath and Supervisor Chris Daly held a press conference today to discuss measures to help ensure a safe Halloween in the Castro District.
Photo(s) by Luke Thomas
By Caitlin Cassady
September 18, 2007
A group of community activists and concerned neighbors decked out in orange and black held a news conference Tuesday on the steps of City Hall to discuss how to ensure a safe Halloween in the Castro District.
A community group, Citizens for Halloween, is calling on San Francisco government members to attend a community meeting this Saturday to discuss plans for organizing the inevitable crowds that will gather in the Castro this Oct. 31.
At the meeting Citizens for Halloween hopes to establish a Halloween Community Advisory Board, work with the community to provide a safe celebration, cultivate the image of Halloween as a fun safe event for tourists and locals alike, and recognize the cultural impact of San Francisco's celebration.
Organizer Alix Rosenthal said that she also hopes to discuss potential problems such as portable toilets, street closures and police enforcement.
Two Castro businesses, Ritual Coffee Roasters and another, which prefers to remain anonymous, have dedicated money to provide a portable toilet in front of any residence or business that requests it, Rosenthal said. According to Citizens for Halloween, organizers will work with the Department of Public Works to try and get permit fees waived for those toilets.
Ted Strawser, founder of SF Party and member of Citizens for Halloween, asked for police and government members to establish concrete plans for crowd management in the Castro.
"We are here to mitigate the disaster that will occur next month if there are no plans to control crowds,'' Strawser said.
In 2006, when Halloween was a city-planned event, there were 9 people shot, and one woman suffered a head injury after she was trampled in the crowd. The year before, a partygoer was running around with a live chainsaw, according to Nathan Ballard, director of communications for San Francisco Mayor Gavin Newsom.
"Last year the violence in the Castro was out of hand,'' Ballard said. As a result of the violence in 2006, "Halloween is canceled,'' he added.
In October the Mayor's office will be rolling out a public information campaign directed toward the entire Bay Area, Ballard said. The campaign will explain that there will be no regional party in the Castro and will encourage people to stay home and attend events in their own neighborhood.
On top of the informational campaign, the city will be united in its commitment to preserve public safety, Ballard said. The city will have even more police officers on hand this year than last year, and has cooperation between city agencies to keep residents safe.
"Only a lunatic would think it's a good idea to invite the whole Bay Area to invade the Castro on a weeknight,'' Ballard said.
Part of the informational campaign will also involved asking businesses in the Castro to close their doors on Halloween, Ballard said. The Mayor's office hopes that creating a dearth of open bars and restaurants will decrease the number of revelers.
"Businesses staying open on Halloween does not contribute to the violence that occurs on the streets,'' Rosenthal said. "We need to concentrate on making Halloween safe, not closing it down.''
Gary Virginia, who works with the Merchants of Upper Market and Castro group, said that he doesn't condone closing businesses on Halloween.
"Castro Street merchants depend on Halloween as one of the biggest income days a year,'' he said.
Virginia wants to encourage Mayor Newsom and city supervisors to follow the lead of New York City, which has a large Halloween parade every year in Greenwich Village. According to the organizers, New York City garners an estimated $60 million each year from Halloween tourists and parade-goers.
"Other cities embrace the opportunity that we (San Francisco) seem to be paralyzed by,'' said Hank Wilson, an Lesbian Gay Bisexual Transgender community activist. Wilson called on the community to respond and help organize the historic event.
Overall, Citizens for Halloween hopes to establish Halloween as a safe event that will continue the Castro's tradition of a unique Halloween celebration, Virginia said.
The community meeting will take place Saturday at 1 p.m. in the Eureka Valley Recreation Center, 100 Collingwood St.
Copyright © 2007 by Bay City News, Inc. -- Republication, Rebroadcast or any other Reuse without the express written consent of Bay City News, Inc. is prohibited.
####