Officer photographed apparent Reiser diatribe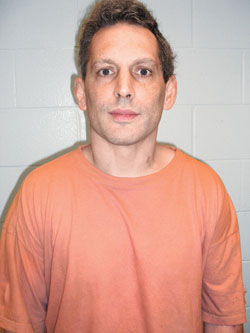 Hans Reiser
Police photo
By Jeff Shuttleworth
January 17, 2008
On the day that Hans Reiser was arrested on suspicion of murdering his estranged wife, Nina, he apparently wrote an angry diatribe against the family law court system, according to testimony at his trial yesterday.
Oakland police officer Bruce Christensen said he photographed the text on a laptop computer on a kitchen table at the home of Mark McGothigan, a male friend of Reiser's mother, on Simson Street near Mills College in Oakland on Oct. 10, 2006.
According to previous testimony in Reiser's trial, Reiser was arrested at that location that day and police believe he had slept there the previous night.
Nina Reiser's body has never been found, despite extensive searches in the Oakland hills and elsewhere.
But Hans Reiser was charged in October of 2006 with murdering her after Oakland police said they found biological and trace evidence tying him to her death.
Christensen didn't have any proof that Hans Reiser wrote the text on the laptop, but its theme is consistent with complaints that Reiser lodged against the family law system in conversations and email messages with Alameda County Supervisor Gail Steele over a long period up to two days before Sept. 3, 2006, when Nina Reiser disappeared.
Under a subheading entitled, "Protecting the Children," according to Christensen, who read the text aloud to jurors, the text said, "There is something about protecting children that attracts the very worst sorts of people, at least as much as it attracts the best."
The text, according to Christensen, said, "Prior to meeting divorce lawyers, I have to tell you I have never met a demographic group before with the majority of persons who enjoy hurting others. In the name of protecting the children, family law suspends every constitutional right that matters."
Nina, who was 31 when she disappeared, and Hans Reiser, now 44, married in 1999 but she filed for divorce and separated from him in 2004. The couple was in the midst of acrimonious divorce proceedings and a struggle over custody of their two children, Rory and Nio, when she disappeared.
Nina had primary physical and legal custody of the children but he was allowed to see them several days a week.
Hans Reiser has pleaded not guilty to the charges against him.
DuBois has said that he thinks Nina may still be alive and in hiding in Russia, where she was born and where she was trained as a physician.
According to Christensen, the text said, "Rory and Nio are available to do root-beer commercials. I guarantee they will be convincing. I don't need to offer root beer to get him to play politically incorrect computer games."
Christensen testified on Monday that he also took a photograph on the screen of a desktop computer in another part of McGothigan's house that shows that someone had done a Yahoo! Search that yielded a long list of news articles about the search for Nina Reiser.
Several other Oakland police officers testified yesterday about Hans Reiser's suspicious activities in the days after Nina disappeared, including hiding his car when he parked on a quiet street in Berkeley nearly 9 miles away from the house in the Oakland hills where he lived with his mother.
Officer Eugene "Gino" Guerrero said the Oakland Police Department had "a giant, giant plan" to conduct surveillance on Hans Reiser and wiretap his phone calls and undercover officers such as him were ordered to put their narcotics investigations on hold so they could help with the investigation.
Guerrero said a number of officers followed Reiser on Sept. 18, 2006, including officer Leo Sanchez, who spied on Reiser from a fixed-wing airplane that flew about 5,000 feet in the sky.
Guerrero said the officers' efforts paid off when they followed Reiser the night of Sept. 18, 2006, as he drove his car, a 1988 Honda CRX, from Berkeley to Monterey Boulevard in the Oakland hills, leaving it on the street several miles away from the home on Exeter Drive where he lived with his mother.
Prosecutor Paul Hora told jurors in his opening statement that when officers examined the car the next morning, they noticed that the car was missing its front right passenger seat, indicating that Reiser might have used it to carry Nina's body to a site where it could be disposed.
More information:
Copyright © 2007 by Bay City News, Inc. -- Republication, Rebroadcast or any other Reuse without the express written consent of Bay City News, Inc. is prohibited.
####