Criminalist testifies about blood stains at Reiser trial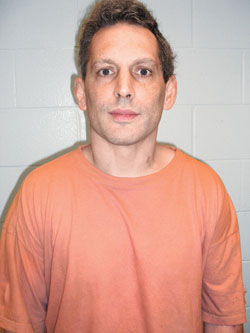 Hans Reiser
Police photo
By Jeff Shuttleworth
January 18, 2008
Bloodstains were found on eight different locations in computer engineer Hans Reiser's home in the Oakland hills when police searched it after his estranged wife Nina disappeared on Sept. 3, 2006, Oakland police criminalist Todd Weller said yesterday.
Testifying in Hans Reiser's murder trial, Weller said that when police conducted searches on Sept. 13 and 14, 2006, at the home at 6969 Exeter Drive where Reiser lived with his mother, two bloodstains were found on a pillar in the entryway.
In addition, three bloodstains were found on a black leather couch in the living room, one was found on a mattress, one was found on the floor under the mattress and one was found on a light switch, Weller said.
Jurors haven't yet heard testimony about the source of the blood, so they don't yet know its significance.
Another Oakland police criminalist, Sharon Cavness, testified at Reiser's preliminary hearing on Dec. 20, 2006, that the blood on the pillar belonged to both Hans and Nina Reiser.
Cavness is expected to testify next Tuesday, when Reiser's trial resumes.
Reiser, 44, is accused of murdering Nina, who was 31 when she disappeared, even though her body has never been found.
But he was charged in October of 2006 with murdering Nina after Oakland police said they found biological and trace evidence tying him to her death.
Hans Reiser has pleaded not guilty to the charges against him. His attorney, William DuBois, has said that he thinks Nina may still be alive and in hiding in Russia, where she was born and trained as a physician.
Hans and Nina Reiser married in 1999 but she filed for divorce and separated from him in 2004. The couple was in the midst of acrimonious divorce proceedings and a struggle over custody of their two children, Rory and Nio, when she disappeared.
Nina had primary physical and legal custody of the children but he was allowed to see them several days a week.
At the preliminary hearing, Cavness, a DNA expert, said there is a less than 1 in 45 trillion chance that the female blood sample on the pillar at the Exeter Drive home is from someone other than Nina Reiser.
Cavness said there is a less than 1 in 208 chance that the male sample was from someone other than Hans Reiser.
She said the reason for the large difference in odds is that the female sample was much bigger than the male sample.
But under cross-examination from DuBois, Cavness admitted that DNA testing can't reveal the time and age of blood samples, so it's impossible to know when the blood got on the pillar.
DuBois made that same point when he cross-examined Weller and the criminalist conceded it's impossible to determine the age of blood spots.
In other testimony yesterday, Weller said that when police found Nina Reiser's abandoned tan 2001 Honda Odyssey minivan on Sept. 9, 2006, six days after she disappeared, they found her rent check, rotting groceries, her purse, including cash and credit cards, and her cell phone with its battery detached.
Police found the van in the 1500 block of Fernwood Drive in Oakland, a short distance from Hans Reiser's home, after a resident told police it had been sitting there for at least several days.
Weller said Nina's purse contained cards for various appointments, including one for a dental appointment for her son Rory on Oct. 9, 2006, and a skin care salon appointment for herself on Sept. 27, 2006.
In addition, Weller said her billfold contained receipts from the Berkeley Bowl grocery store at 2020 Oregon St. in Berkeley on the day she disappeared.
Weller said a receipt at 12:37 p.m. on Sept. 3, 2006, was for takeout food costing $15.18 and a receipt at 1:55 p.m. was for 51 grocery items costing $144.48.
More information:
Copyright © 2007 by Bay City News, Inc. -- Republication, Rebroadcast or any other Reuse without the express written consent of Bay City News, Inc. is prohibited.
####