Cleaning supplies found in Reiser's car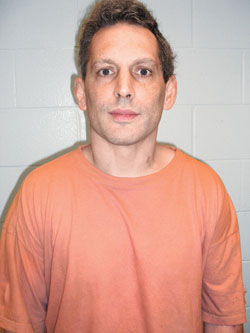 Hans Reiser
Police photo
By Jeff Shuttleworth
January 23, 2008
Cleaning supplies, wrenches, a sleeping bag and books on crime were among the many items found in murder suspect Hans Reiser's car when Oakland police recovered it several weeks after his wife Nina disappeared, a criminal evidence expert said Tuesday.
Testifying as an expert witness in Reiser's trial on charges that he murdered his estranged wife, whose body has never been found, criminalist Shannon Cavness said she examined his 1988 Honda Civic CRX on Sept. 26, 2006, a week after police recovered it on Monterey Boulevard in Oakland.
That location is several miles away from the home at 6979 Exeter Drive in the Oakland hills where Reiser lived with his mother and where Nina Reiser was last seen on Sept. 3, 2006, when she dropped off the couple's two children.
The couple had been separated for more than two years and was in the midst of acrimonious divorce proceedings when she disappeared.
Cavness said one of the things she noticed is that the right front passenger seat of Reiser's car was missing.
Prosecutor Paul Hora suggested to jurors in his opening statement that Reiser might have removed the passenger seat so that he would have room to carry Nina's body to a spot where it could be disposed.
Cavness said another thing she noticed is that there was a bumper sticker on the back of Reiser's car which said, "Practice random acts of kindness and senseless acts of beauty."
Cavness is expected to spend two days on the witness stand in Reiser's trial.
Jurors haven't yet heard any DNA evidence in the case, but when Cavness testified at Reiser's preliminary hearing on Dec. 20, 2006, she said blood found on a pillar in the entryway of the home on Exeter Drive belonged to both Hans and Nina Reiser.
At the preliminary hearing, Cavness, a DNA expert, said there is a less than 1 in 45 trillion chance that the female blood sample on the pillar at the Exeter Drive home is from someone other than Nina Reiser.
Cavness said there is a less than 1 in 208 chance that the male sample was from someone other than Hans Reiser.
She said the reason for the large difference in odds is that the female sample was much bigger than the male sample.
But under cross-examination from Hans Reiser's attorney, William DuBois, Cavness admitted that DNA testing can't reveal the time and age of blood samples, so it's impossible to know when the blood got on the pillar.
More information:
Copyright © 2007 by Bay City News, Inc. -- Republication, Rebroadcast or any other Reuse without the express written consent of Bay City News, Inc. is prohibited.
####