Reiser's lawyer files motion for a mistrial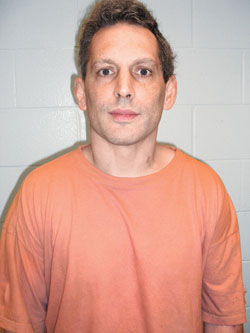 Hans Reiser
Police photo
By Jeff Shuttleworth
January 29, 2008
Upset that a judge scolded him in front of jurors, the defense lawyer for Oakland computer engineer Hans Reiser fired back Monday by filing a motion for a mistrial on the grounds that the judge's remarks were "inaccurate, intemperate and unfair."
However, a hearing on the motion filed by veteran Oakland defense attorney William DuBois hasn't yet been set and Reiser's trial on charges that he murdered his wife Nina, who disappeared on Sept. 3, 2006, and has never been found, will continue as scheduled on Tuesday.
In his motion filed in court yesterday, DuBois said the California Supreme Court has ruled that a trial judge may comment on the evidence in a case, including the credibility of witnesses, only "so long as its remarks are accurate, temperate and scrupulously fair."
Alameda County Superior Court Judge Larry Goodman threatened to find DuBois in contempt of court on Dec. 12 when DuBois accused Nina Reiser's best friend, Ellen Doren, of being "not fully candid" in her testimony, telling DuBois that he shouldn't comment on the evidence in the case.
Following a long series of objections by prosecutor Paul Hora as DuBois cross-examined Doren, Goodman told the defense lawyer, "I know what you're doing and you know what you're doing. The next time it will cost you."
In his motion, DuBois said, "Accurate, temperate and scrupulously fair in no way describes the court's (Goodman's) comment" that day.
The motion for a mistrial overshadowed another day of mostly dry testimony today in Reiser's lengthy trial, which began on Nov. 6.
Hora hopes to finish presenting the prosecution's case by the end of next week.
DuBois will present the defense's case after that, but he hasn't tipped his hand about whether he will put Reiser on the witness stand to testify in his own defense.
Reiser, 44, is accused of murdering Nina even though her body has never been found, despite extensive searches in the Oakland hills and elsewhere.
Prosecutors allege that DNA and blood evidence prove that he killed her.
Nina, who was 31 at the time, was last seen alive on Sept. 3, 2006, after she dropped off the couple's two children at the house at 6979 Exeter Drive in the Oakland hills where Hans Reiser lived with his mother.
The couple married in 1999 but Nina filed for divorce and separated from Hans in 2004. They were in the midst of an acrimonious divorce and a battle over the custody of their children when she disappeared.
Hans Reiser has pleaded not guilty to the charges against him.
DuBois has said he thinks Nina might still be alive and be in hiding in Russia, where she was born and raised and where she was trained as a physician.
Patelco Credit Union internal audit and security manager Erin Morasch spent all afternoon testifying in excruciating detail about Hans and Nina's checking and savings accounts, debit cards and credit cards.
The details were so dry that at one point late in the day Morasch joked, "Banking - it's fascinating stuff."
But Hora put Morasch on the witness stand for a serious reason, which is to try to support his belief that Nina must be dead.
Other witnesses have testified that they don't believe that Nina would have abandoned the couple's children and that she had much to live for because she was scheduled to begin a new job shortly after she disappeared.
Morasch testified that Nina didn't have any transactions at Patelco after Sept. 3, 2006, and still has $4,504 in her checking and savings accounts that she could use if she were still alive.
Morasch also testified that Hans Reiser dramatically increased his cash withdrawal activity in August and September of 2006.
In his motion, DuBois said Goodman's rebuke on Dec. 12 "strikes at the heart of the defense case."
DuBois said Goodman's comment that "there's no evidence" to support DuBois' line of cross-examining Doren gives jurors the impression that there's no evidence that Nina Reiser left Hans Reiser's house on Sept. 3, 2006.
But DuBois said that he believes the opposite, that there's strong evidence, through testimony by the couple's son, Rory Reiser, that Nina Reiser left the house alive after dropping off Rory and his sister Nio.
DuBois said if Nina left the house alive, Hans Reiser wouldn't have "had any other opportunity to kill Nina."
DuBois said that by commenting that there's no evidence that contradicts the prosecution's theory that Hans Reiser killed Nina on Sept. 3, 2006, at his house, Goodman "emphatically misinformed the jury."
DuBois said that if Goodman dismisses the motion for a mistrial, he should at least "correct his error" by telling jurors to disregard his Dec. 12 comments and instruct them that they are the exclusive judges of the facts, based on the evidence in Reiser's trial.
More information:
Copyright © 2007 by Bay City News, Inc. -- Republication, Rebroadcast or any other Reuse without the express written consent of Bay City News, Inc. is prohibited.
####