Employer says Nina Reiser was excited about new job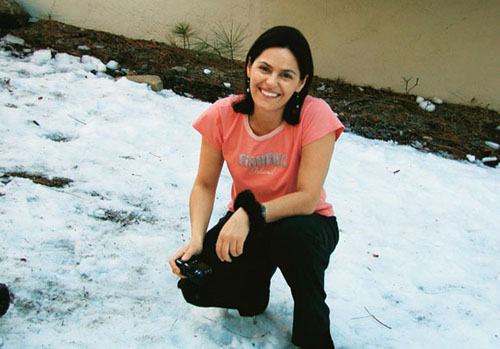 Nina Reiser
By Jeff Shuttleworth
February 7, 2008
The prosecutor in the murder trial of Hans Reiser presented another witness Wednesday aimed at undermining the defense's theory that his estranged wife Nina, who disappeared on Sept. 3, 2006, may still be alive and hiding in her native Russia.
Patricia Erwin, a program director at the San Francisco Department of Public Health, testified that Nina Reiser, who was 31 when she was last seen alive, seemed to be excited when Erwin called Nina on Aug. 31, 2006, to offer her a job to manage a program aimed at improving the health of Russian immigrants.
Erwin said Nina accepted the job, which was to pay her $50,000 a year plus benefits, was scheduled to fill out paperwork on Sept. 7 of that year, attend a meeting on Sept. 15 and start work on Sept. 21, but she said Nina missed all three appointments and she didn't have any further contact with Nina following a phone conversation on Sept. 1.
Erwin said it was unlike Nina to miss an appointment because she had always shown up for her job interviews on time.
Erwin also said it seemed unlikely that Nina would abandon her two children because they "were a major part of her life."
Throughout the course of Hans Reiser's lengthy trial, which began on Nov. 6, prosecutor Paul Hora has presented witnesses who said Nina had much to live for, looked forward to starting a new job and wouldn't have abandoned her children.
Nina Reiser was last seen alive when she dropped off the couple's two children at Hans Reiser's house at 6979 Exeter Drive in the Oakland hills.
Her body has never been found despite extensive searches, but Hans Reiser was charged with murdering her because prosecutors believe that DNA and blood evidence proves that he killed her.
The couple married in 1999 but Nina filed for divorce and separated from Hans in 2004. They were in the midst of an acrimonious divorce and a battle over the custody of their two children when she disappeared.
Hans Reiser has pleaded not guilty to the charges against him.
His attorney, William DuBois, has said he thinks that Nina Reiser may still be alive and be in hiding in Russia, where she was raised and where she was trained as a physician.
Nina's mother, Irina Sharanova, has custody of the Reisers' two children and is raising them in St. Petersburg, Russia, which is where Nina lived before she married Hans and came to the U.S. Sharanova is expected to testify Monday.
--
Copyright © 2007 by Bay City News, Inc. -- Republication, Rebroadcast or any other Reuse without the express written consent of Bay City News, Inc. is prohibited.
####