Reiser trial borders on the bizarre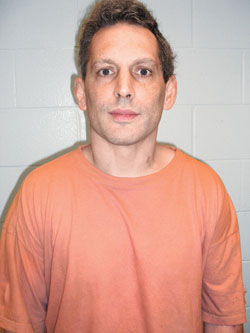 Hans Reiser
Police photo
By Jeff Shuttleworth
February 22, 2008
The trial of computer engineer Hans Reiser on charges that he murdered his estranged wife Nina bordered on the bizarre for the second straight day yesterday with a key defense witness sleeping in a courthouse hallway and the playing of a video of the couple's unusual wedding ceremony.
A day after Reiser's father, Ramon Reiser, testified about the Russian Mafia and sadomasochism and did one-handed pushups in court, defense lawyer William DuBois treated jurors to a lengthy video of the wedding of Hans and Nina at a stone labyrinth in an isolated area of Tilden Park in May of 1999.
Meanwhile, psychiatrist Beverly Parr, who testified both Wednesday and Thursday that she thinks Hans Reiser suffers from a mild form of Autism called Asperger's disorder, spent the afternoon sleeping in the hallway outside the courtroom of Alameda County Superior Court Judge Larry Goodman, who is presiding over Reiser's trial.
Ramon Reiser, who wasn't allowed in court because he's a witness in the case, sat nearby.
In the morning session, Parr said on the witness stand that she was so upset about "the negativity that is manifest in newspaper articles about Asperger's disorder" based on her testimony on Wednesday that she only got two hours of sleep Wednesday night when she stayed at the home of Reiser's mother, Beverly Palmer, who's a close friend of hers.
The video featured a male entertainer who carried an animal skull on a long stick on whose function was to be like a Minotaur, according to Palmer, who was called to the witness stand by DuBois to authenticate and narrate the video.
Palmer explained to jurors that a Minotaur is a mythical creature who is half-bull and half human.
Hans and Nina wore silk robes, smiled happily and did snake-like dance moves to the rhythm of a tambourine. At the reception back at Palmer's house in the Oakland hills, a belly dancer with a bare midriff danced provocatively and Hans and Nina danced some more, although Hans fell on his face at one point.
The video also showed a man dressed in a woman's dress and a woman's hat and wearing lipstick as well as a woman dressed in man's clothes.
Palmer said the man was Hans' good friend, Sean Sturgeon, who was "the best woman" at the wedding ceremony and the woman was Sturgeon's girlfriend, who was "the best man."
Other witnesses in Reiser's lengthy case have testified that Sturgeon later had a long affair with Nina and DuBois has said that Sturgeon was into sadomasochism.
Nina, who was 31 at the time, disappeared on Sept. 3, 2006, when she dropped off the couple's two children off at the home at 6979 Exeter Drive in the Oakland hills where he lived with his mother. The couple had been separated for two years and was in the midst of bitter divorce and custody proceedings.
The body of Nina Reiser, who was born in Russia and was trained as a physician there before coming to the U.S. in 1999 to marry Hans Reiser, has never been found, despite extensive searches in the Oakland hills and elsewhere. But Hans Reiser, 44, was charged with murdering her because prosecutors believe that DNA and blood evidence proves that he killed her.
He has pleaded not guilty to the charges against him. DuBois has said that he thinks Nina Reiser may still be alive and be in hiding in Russia.
DuBois also has suggested that Nina may have been killed by Russian spies, alleging that her family has connections with Russian spy organizations.
Ramon Reiser, a former Army sergeant first class and mathematician, testified Wednesday that he warned his son that he might be surveilled by people associated with the former KGB, "Russian mafia groups in California" or "the techno-geek S&M crowd."
When she was on the witness stand yesterday, Parr admitted that although she has known Hans Reiser since he was two or three years old it's hard for her to say for certain that he suffers from Asperger's disorder because she's never diagnosed him.
Prosecutor Paul Hora suggested that Reiser suffers from narcissistic personality disorder characterized by arrogance, instead of from Asperger's disorder, but Parr said she disagreed.
Palmer testified that she wrote a memo on Jan. 11, 2005, that in the summer of 2004, apparently around the time that Hans and Nina separated, Nina, who was in Russia with the couple's children at the time, threatened to take the children to live in Sweden instead of returning to the United States.
Nina also said she wanted a large sum of money, possibly up to $30,000, to be placed in her bank account to ensure that she would return to the U.S., Palmer said.
Under cross-examination by Hora, Palmer admitted that she wrote the memo at Hans' direction as part of the divorce case.
Palmer also admitted that when Oakland police officers talked to her shortly after Nina disappeared and asked where she might have gone, she described Nina as "a lovely person" and made no mention of her alleged threat to go to Sweden.
Reiser's trial will resume Monday afternoon. DuBois hasn't yet disclosed if Reiser will testify.
--
Copyright © 2007 by Bay City News, Inc. -- Republication, Rebroadcast or any other Reuse without the express written consent of Bay City News, Inc. is prohibited.
####