Nina Reiser appears at husband's murder trial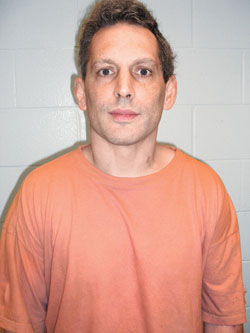 Hans Reiser
Police photo
By Jeff Shuttleworth
January 14, 2008
Nina Reiser made a brief appearance today in the trial of her husband Hans Reiser on charges that he murdered her, but only in a videotape recorded at a grocery store shortly before she was last seen alive.
Oakland police officer Shan Johnson testified today that the video showed Nina Reiser, who was 31 at the time, with the couple's two children, Rory and Nio, at the Berkeley Bowl store at 2020 Oregon St. in Berkeley about 2 p.m. on Sept. 3, 2006.
The video, which recorded activity near a checkout counter, didn't show Nina's face, but it showed part of her body and showed that she was wearing a purple sundress.
Nina was last seen about half an hour later when she dropped off the children at the house at 6979 Exeter Drive in Oakland where Hans Reiser lived with his mother, Beverly Palmer.
Her body has never been found, despite extensive searches in the Oakland hills and elsewhere.
But Hans Reiser, an Oakland computer engineer, was charged in October of 2006 with murdering her after Oakland police said they found biological and trace evidence tying him to her death.
Nina and Hans Reiser married in 1999 but she filed for divorce and separated from him in 2004. The couple was in the midst of acrimonious divorce proceedings and a struggle over custody of their two children when she disappeared.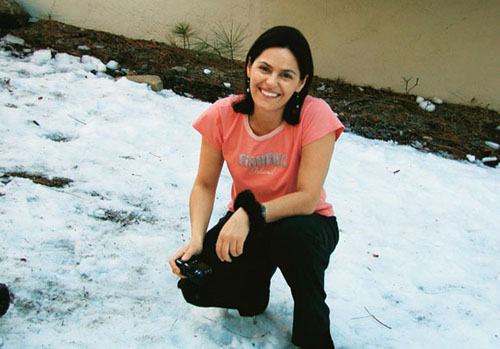 Nina Reiser
Hans Reiser has pleaded not guilty to the charges against him. His attorney, William DuBois, has said that he thinks Nina may still be alive and in hiding in Russia, where she was born and where she was trained as a physician.
Today was the first day of testimony this year in Reiser's trial, as Alameda County Superior Court Judge Larry Goodman gave jurors a 26-day break during the holidays, and much of the testimony was dry as prosecutor Paul Hora continued his task of methodically presenting small bits of pieces of evidence aimed at painting a larger picture that proves Reiser is guilty.
One little piece was Johnson's testimony that when he searched Nina's home on Sept. 15, 2006, he found her passport, as well as passports for the couple's children.
Johnson said the fact that he found Nina's passport indicated to him that she hadn't left the country, but DuBois suggested that she could have left the country using an assumed name.
Officer Bruce Christensen described nearly 100 photos he took of virtually every nook and cranny of the Exeter drive house.
Christensen also described photos he took of a house at 6952 Simpson St. on Oct. 10, 2006, where a male friend of Reiser's mother lives.
Reiser was arrested at that residence that day.
Christensen showed jurors a photograph of a computer screen on which a Yahoo search had been conducted before police arrived.
The top five searches all had to do with the highly-publicized search for Nina Reiser.
The headline on the first search result said, "Police, FBI search Hans Reiser's house again."
Johnson testified that Reiser engaged in counter-surveillance activities, such as dramatically changing speeds while driving and following circuitous routes, when he and other officers followed him on Sept. 8, 2006, five days after Nina disappeared.
DuBois suggested that Reiser's strange driving patterns indicate he knew he was being followed by police, but Johnson disagreed, saying that once suspects know for sure that they're being followed it's fruitless for them to try to flee from police.
At one point DuBois asked Johnson how suspects could get police officers to stop following them.
"A lot of people would like to know the answer to that," Johnson said, drawing laughter from the jurors in Reiser's case.
More information:
Copyright © 2007 by Bay City News, Inc. -- Republication, Rebroadcast or any other Reuse without the express written consent of Bay City News, Inc. is prohibited.
####