Hillary Clinton charms supporters
at San Francisco fundraiser
Code Pink group infiltrate proceedings
with anti-war message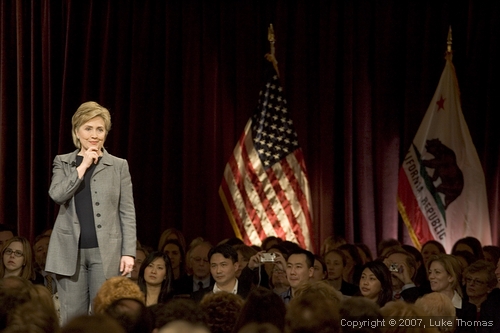 Presidential candidate Senator Hillary Clinton (D-NY) held a fundraiser at the San Francisco Palace Hotel yesterday. Clinton reportedly earned $300,000 for her presidential bid.
Photo(s) by Luke Thomas
By Brent Begin, Bay City News Service

February 24, 2007
SAN FRANCISCO (BCN) - New York Senator Hillary Clinton brought her campaign for the 2008 presidency to San Francisco yesterday, promising universal health care, investment in alternative energy, better education and an end to the war in Iraq.
Her speech drew applause from a supportive group of donors and California politicians and continued to rouse the crowd even as members of an activist group walked through the aisles of the Palace Hotel conference room with anti-war banners.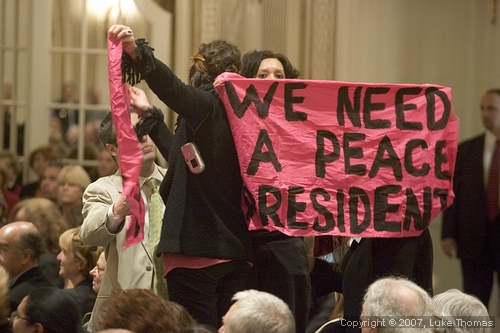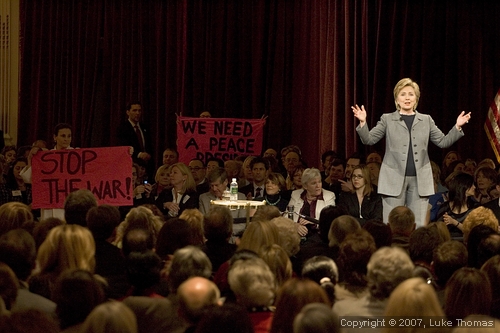 "I know there are still some who might say, 'Yes, but can we ever elect a woman president?' My response to that is: we don't know until we try," Clinton said. "That's not a hard sell in the home of Nancy Pelosi, Dianne Feinstein, and Barbara Boxer."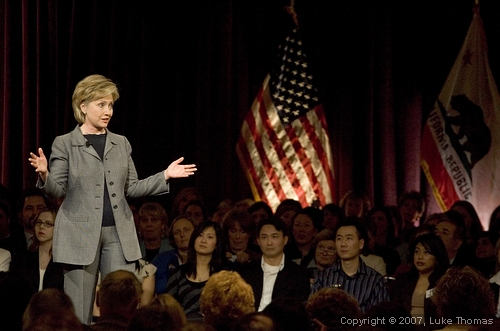 Clinton touched on a variety of topics dear to Bay Area voters, vowing to retain and replace a number of social services that have been cut over the last six years.
She said that while she doesn't have a definitive plan on universal health care, she would make it a point to examine the major costs of healthcare and turn the data into a "uniquely American solution."
Clinton pledged to send more students to college by improving preschool education and boosting need-based grants. She also told the audience she is already working on federal subsidies in order to make housing more affordable.
She also complimented California as being a leader in conservation and innovation in alternative energy, and she promised to cut greenhouse gas emissions as president.
But the issue that has caused a major divide among liberal voters and her major democratic competitor, Barack Obama, is her stance on the war in Iraq.
Several protesters from Code Pink, an organization of women opposing the war in Iraq, were led away by security after holding banners that said, "We need a peace president," and "Hillary, stop funding the war."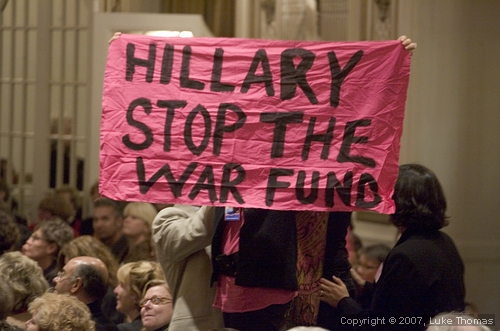 Clinton did not address the protesters but vowed to cap the number of troops in Iraq while sending them the equipment they need to remain safe.
She also promised to stop writing "blank checks" to the leaders of Iraq without holding them accountable.
Code Pink cofounder Medea Benjamin, who chanted outside the hotel with a group of activists, said Clinton was making a mistake by not supporting an immediate troop withdrawal.
"We're out here to tell Hillary that her position in Iraq is too pro-war; her measures are too little, too late," she said. "We represent the vast majority of democrats who strongly oppose the war. She's out of touch with both democrats and women voters."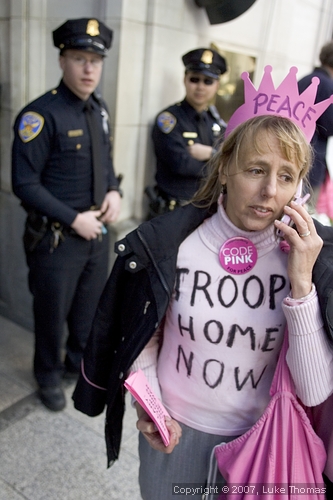 Code Pink founder Medea Benjamin
Police cited and released five women who protested inside the conference room for "disturbing a meeting," according to police Sgt. Neville Gittens.
One of the biggest reactions was a comment about Clinton's husband, former President Bill Clinton. When asked by an audience member whether she would appoint her husband as secretary of state, she replied that it might not be legally feasible but that it might be a good idea.
"He's is the most popular person in the world right now..." she said. "I will promise you this, as president I will continue the tradition of using former presidents as often as I can."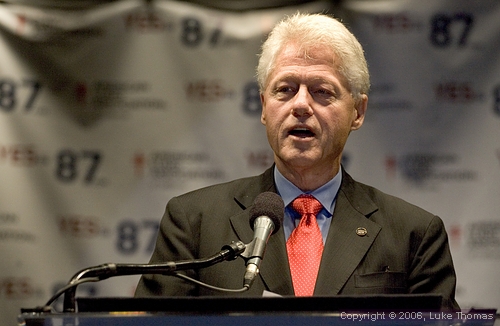 President Bill Clinton, file photo, 11/1/6
Among Clinton's supporters at the event were Senate Pro Tem Don Perata, state Senator Carole Migden, Assemblymember Fiona Ma, and state Treasurer Bill Lockyer.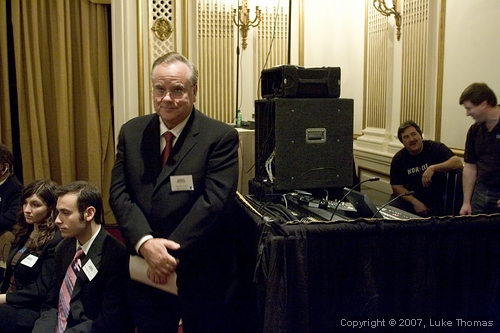 California State Treasurer Bill Locker
Clinton's visit is one of many recent Bay Area nods by presidential hopefuls including Obama; former New York mayor Rudy Giuliani, a republican; former Democratic vice presidential nominee John Edwards; former Iowa governor Tom Vilsack, a Democrat; and former New Mexico governor Bill Richardson, a Democrat.
Copyright © 2007 by Bay City News, Inc. -- Republication, Rebroadcast or any other Reuse without the express written consent of Bay City News, Inc. is prohibited.
####