Clinton stages late San Francisco campaign stop
ahead of Super Tuesday election
Latest Poll: Obama, Clinton in virtual tie in California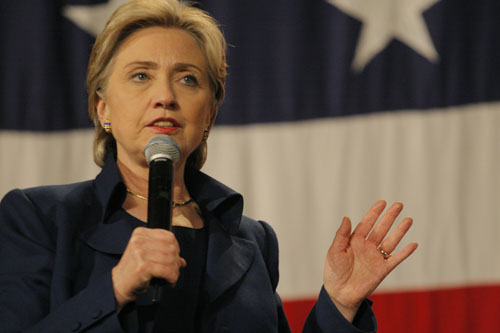 Senator Hillary Clinton continued efforts Friday at the Orpheum Theater in San Francisco
to help stave off a loss to Senator Barack Obama in delegate-rich California
before the Super Tuesday primary election.
Photos by John Han
By Laura Dudnick
February 2, 2008
Supporters of presidential hopeful Hillary Clinton rocked out to Tom Petty's "American Girl" not long before the Democratic senator plunked on stage Friday tonight at San Francisco's Orpheum Theater.
Clinton addressed a crowd of about 2,300 people, mostly women, at her latest campaign stop. Her supporters cheered wildly when she called the role of U.S. president "the hardest job in the world ... even harder following (President) Bush and (Vice President Dick) Cheney."
Clinton said, "I can make those tough decisions. I can lead from that very first day."
U.S. soldiers in Iraq would return home immediately, and their needs, "both visible and invisible," would be met, Clinton said.
There were some mixed reactions on this topic.
"As a mother of five, I don't think Hillary would send my boys off to war," said Janice Linver, of Alameda.
But another supporter, San Mateo resident Leslie Rosenberg, said she is skeptical of Clinton's promise to take care of war veterans and that Clinton's guarantee to do so "concerns me."
Rosenberg said for more than 40 years she does not believe there has been adequate attention spent on veterans, even when Hillary Clinton's husband was president for eight years.
Rosenberg still supports the New York senator, saying she is thrilled with how Clinton has encouraged the country's women.
"As a woman, when I was in high school, I had to petition to be able to take physics and calculus," Rosenberg said. "(Clinton) is a woman who has dedicated her entire adult life to trail blaze opportunities for every woman in this country."
Two Bay Area mayors, San Francisco's Gavin Newsom and Oakland's Ron Dellums, came out to support Clinton at the historical theater.
"I am honored to be standing here with the person who will go down in history as the greatest president of our time," Dellums said.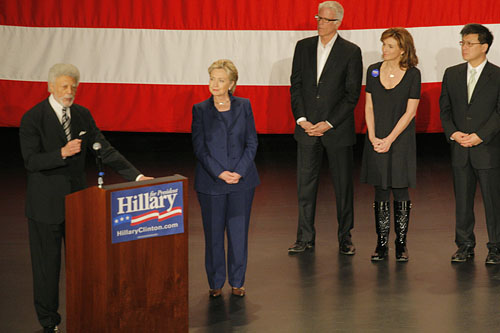 Oakland Mayor Ron Dellums
The campaign stop was Clinton's third public appearance Friday in California and her second in the Bay Area before Tuesday's primary election.
U.S. Sen. Barack Obama, D-Ill., has reportedly trailed Clinton by double digits in recent California polls. One poll taken by public opinion research company Rasmussen Reports on Tuesday showed Clinton's lead down to 3 percent, at 43 percent to 40 percent.
A Field Poll released today, however, shows Clinton and Obama in a virtual tie in delegate-rich California.
--
Copyright © 2007 by Bay City News, Inc. -- Republication, Rebroadcast or any other Reuse without the express written consent of Bay City News, Inc. is prohibited.
####