Unique pairing of beer and wine at Hopland winery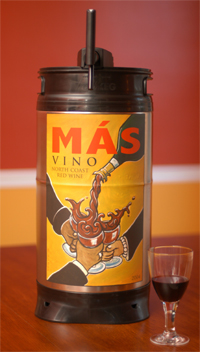 Image via Winebusiness.com
By James Lanaras
February 18, 2008
A unique and flavorful pairing of beer and wine is in store for those who attend the daylong "Mardi MAS" in Hopland on Friday.
It's wine in a beer keg!
The MAS Wine Company, which brews its super premium red and white wines, MAS Vino and MAS Vino Blanco at the Jepson Winery in Hopland, has invited 200 managers and sales people from 11 beer distribution companies from throughout Northern California to the event at the winery.
MAS Wine Company distributes nearly all its wines in something near and dear to the beer brewers' and lovers' hearts - stainless steel kegs, a far cry from cork and bottle and screw tops in the wine domain.
The goal of the gathering at the Jepson Winery in Mendocino County is to introduce the denizens of the beer world to a working winery and help the beer distributors become more comfortable with the wine the MAS Wine Company is asking them to sell.
"Through our colleagues in the beer industry, we've placed our red and white kegs in stores and restaurants in all of the Bay Area's nine counties, Eureka, Mendocino and Sacramento County. We're off to a great start," said Andy Woehl, president of MAS Wine Company.
MAS Wine Company is an 18-month-old start-up with officers and investors based in San Francisco, Sacramento and Sonoma County. The company has a Web site and a mailing address in Cloverdale where its winemaker and production chief live.
"No bricks and mortar. Just wine," Woehl says.
The company comes together for blending new wines at Jepson Winery in Hopland.
The company's airtight, 15-liter kegs hold 20 bottles of wine and keep wine fresh for 60 days. The company is also introducing 11-liter kegs that hold 15 bottles of wine.
The kegs are manufactured in Germany and reduce energy consumption and waste associated with packaging, delivering and storing glass bottles. The kegs are delivered in a just-in-time distribution system. The wines are blended with grapes grown in Napa, Sonoma and Mendocino counties.
"We went to the beer industry because they are the people who know all there is to know about selling beverages in kegs to a large customer base," Woehl said.
The company's main product is wine by the glass from kegs directed at a target audience of young professionals 25-40 years old who are educated, interested in wine and eat out several times a week.
The kegs are at two-dozen restaurants, hotels and other eating and drinking establishments in the Bay Area.

--
Copyright © 2008 by Bay City News, Inc. -- Republication, Rebroadcast or any other Reuse without the express written consent of Bay City News, Inc. is prohibited.
####