City attorney extends deadline for Ed Jew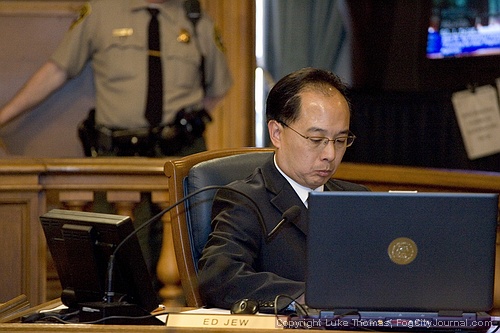 District 4 Supervisor Ed Jew at Tuesday's Board of Supervisors meeting, is the focus of a federal and local investigation. Today, the San Francisco City Attorney extended a deadline for Jew to hand over documents to prove his true primary residence.
Photo(s) by Luke Thomas
By Tamara Barak
May 25, 2007
The deadline has been extended for San Francisco Supervisor Ed Jew to hand over documents proving his primary residence is in the district he represents, a spokeswoman for the city attorney's office said yesterday.
Jew, who represents District 4, will have until June 8 to submit a copy of his 2006 federal and state tax returns, driver's license, vehicle registration and utility bills from 2450 28th Ave. in San Francisco to City Attorney Dennis Herrera, said Herrera's spokeswoman Alexis Truchan.
The supervisor is the target of both an FBI investigation into possible illegal payouts and a city probe into his residence.
Herrera originally requested the documents by Tuesday. However, Jew requested an extension as he left on a preplanned trip to China on Wednesday, the same day Herrera made the inquiry.
Jew's attorney, Steven Gruel, said his client purchased his plane ticket May 1, nearly three weeks before the FBI served search warrants on his properties.
Jew is scheduled to return to the Bay Area on June 4, Gruel said.
Copyright © 2007 by Bay City News, Inc. -- Republication, Rebroadcast or any other Reuse without the express written consent of Bay City News, Inc. is prohibited.
####