Jew turns himself in to police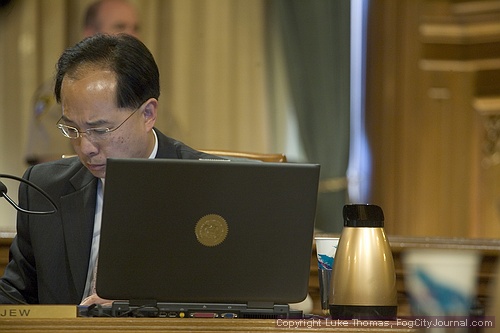 Embattled Supervisor Ed Jew at today's Board of Supervisors meeting,
turned himself in to authorities after a warrant for his arrest was issued stemming from felony criminal charges filed against him by the District Attorney's Office.
Photo(s) by Luke Thomas
By Emmett Berg and Tamara Barak
June 12, 2007, 10:38 p.m.
Accompanied by family members and a bail bondsman, embattled San Francisco Supervisor Ed Jew surrendered himself to police tonight after a day that brought the filing of several felony charges against him.
Jew arrived around 7 p.m. to Burlingame police headquarters to be booked on nine counts sought by San Francisco District Attorney Kamala Harris. The accusations stem from allegations that the recently elected supervisor does not live in the electoral district he represents, despite claims Jew made on candidate filing papers.
Burlingame police Sgt. Jeff Downs said Jew was booked on the charges and then posted 10 percent, or $13,500 bail. The remaining 90 percent was posted through a bail bonds agency, Downs said. Jew's mug shot would be released later, he said.
Earlier today, the district attorney complaint filed in San Francisco Superior Court alleged that Jew lied under oath and falsified documents regarding his residency in order to obtain a seat on the San Francisco Board of Supervisors.
Jew has been charged with four felony counts of perjury, one count of filing a false document, and four felony counts of violating the elections code.
The district attorney's office began its investigation of Jew May 18, immediately after the FBI's public corruption unit executed search warrants on the supervisor's properties. The FBI is reportedly investigating $40,000 in cash Jew allegedly accepted from a group of businessmen having permit problems. Jew denies wrongdoing.
The criminal accusations against Jew allege that when he filed the necessary papers to run for city supervisor representing the Sunset District, he did not live at 2450 28th Ave. as he claimed.
Mayor Gavin Newsom reacted to the charges against Jew with a pledge to monitor the situation closely.
"These serious charges go to the heart of the integrity of the electoral process," Newsom said in a statement released tonight. "I will carefully review the facts of this matter as the city attorney, the district attorney and the FBI continue to investigate these serious issues."
Neither Jew nor his lawyer, Steven Gruel, was immediately available for comment following Jew's self-surrender to Burlingame police.
The district attorney's office alleges that in addition to filing false documents in his 2006 campaign for supervisor, Jew also committed perjury by using the Sunset District address to register to vote and file an application with the Department of Motor Vehicles. He is also accused of committing voter fraud by voting in the 2006 election under a false address.
On Monday, City Attorney Dennis Herrera and Deputy City Attorney Chad Jacobs wrote to Gruel, claiming Jew did not fully respond to the city's previous request for documentation that would prove that the supervisor lives in the district he represents. Media outlets obtained copies of the letter.
Jew responded to the request last week, but left out pertinent information such as utility and phone bills from his alleged residence, according to Herrera.
Copyright © 2007 by Bay City News, Inc. -- Republication, Rebroadcast or any other Reuse without the express written consent of Bay City News, Inc. is prohibited.
####