Josh Wolf loses another legal round, remains jailed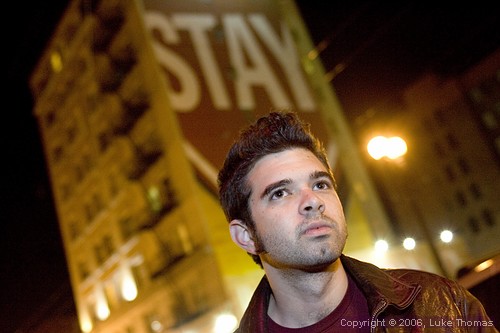 Josh Wolf
Photo(s) by Luke Thomas
By Julia Cheever, Bay City News Service
November 17, 2006
SAN FRANCISCO (BCN) - A jailed journalist lost another round Thursday in his challenge to a contempt-of-court finding that has kept him in a federal prison in Dublin for nearly three months for refusing to give a videotape to a grand jury.
The 9th U.S. Circuit Court of Appeals in San Francisco turned down freelance videojournalist Josh Wolf's request for review of his case by an expanded 15-judge panel.
Wolf, 24, of San Francisco, was found in contempt of court by U.S. District Judge William Alsup on Aug. 1 for refusing to give a federal grand jury unaired sections of a videotape he made of an anarchist demonstration in San Francisco on July 8, 2005.
The grand jury is investigating a possible attempted arson of a police car that was partly paid for with federal funds.
Wolf contends that the grand jury's subpoena for the tape and his testimony would violate his First Amendment rights and force him to act as a spy for the government.
Wolf lost an earlier round of appeal when a three-judge panel of the 9th Circuit upheld Alsup's finding on Sept. 11.
His attorney, Dan Siegel, was not immediately available for comment.
Wolf was incarcerated at the Federal Correctional Institution in Dublin from Aug. 1 to Sept. 1. He was then freed while his appeal was considered, but was ordered back to prison on Sept. 22 by the appeals court and has remained in custody since then.
Alsup is scheduled to hold a hearing on Tuesday on Wolf's request to be freed temporarily for the Thanksgiving holiday.
Wolf could be kept in prison until the grand jury's term expires in July.
He sold some parts of the videotape to local television stations and posted some sections on his website.
Copyright © 2006 by Bay City News, Inc. -- Republication, Rebroadcast or any other Reuse without the express written consent of Bay City News, Inc. is prohibited.
####