Alsup denies Josh Wolf's renewed bid for release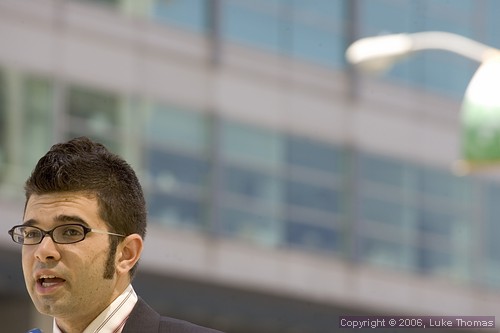 Josh Wolf remains in federal prison today following U.S. District Judge William Alsup's denial of a renewed bid for his release. Wolf was ordered jailed August 1, 2006 by Alsup for refusing to turn over videotape of a San Francisco G-8 demonstration turned melee in 2005 to a federal grand jury.
Photo(s) by Luke Thomas
By Julia Cheever, Bay City News Service

January 31, 2007
SAN FRANCISCO (BCN) - A freelance journalist who has been in prison for more than five months for refusing to give a videotape to a grand jury lost a renewed bid for release yesterday.
Josh Wolf, 24, will have been jailed for civil contempt of court longer than any other journalist in U.S. history as of Feb. 6.
In a motion filed in San Francisco last week, he asked U.S. District Judge William Alsup to release him from the Federal Correctional Institution in Dublin on the ground that he will never comply with the grand jury's request, no matter how long he is confined.
Alsup turned down the request in a one-paragraph ruling, saying that suggestions of compromise by one of Wolf's lawyers reveal "a realistic possibility that Mr. Wolf's confinement may be having its coercive effect."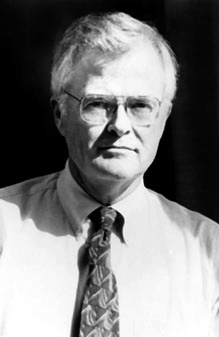 U.S. District Judge William Alsup
Alsup said he agreed with U.S. prosecutors' argument that continued imprisonment may force Wolf to comply with the federal grand jury's subpoena.
Pondra Perkins, one of Wolf's lawyers, said the attorneys need to confer with their client and have not decided on their next steps in the case.
Perkins said the suggestions referred to by the judge, which were made by attorney Martin Garbus, were merely "exploratory questions to present options to the client" and were taken out of context.
The federal grand jury is seeking unaired sections of a videotape Wolf made of an anarchist demonstration in San Francisco on July 8, 2005, in which a police officer was injured. The panel is investigating a possible attempted arson of a police car that was partly paid for with federal funds.
Wolf contends that handing over the tape would make him into a spy for the government and impede his ability to work as a journalist.
He told the judge in a statement filed with his request on Jan. 22 that complying with the subpoena "would obliterate my credibility as a reporter."
Assistant U.S. Attorney Jeffrey Finigan said in a brief filed Monday that Garbus's suggestions included a proposal that Wolf could hand over the tape but not identify individual demonstrators.
Finigan argued that those suggestions and the possibility of an additional year in prison were both reasons for concluding that continued imprisonment might lead Wolf to comply with the subpoena.
The federal attorney wrote that Wolf could be kept in prison until the grand jury's term expires in July and possibly for an additional six months if the term is extended.
Wolf was found in contempt of court and ordered to prison by Alsup on Aug. 1. He was jailed at the Dublin facility from Aug. 1 to Sept. 1, was freed for three weeks during an unsuccessful appeal and then was imprisoned again from Sept. 22 until the present.
The 2005 demonstration was a protest of an economic summit in Scotland. Wolf sold some parts of the videotape to local television stations and posted some sections on his Web site.
Copyright © 2007 by Bay City News, Inc. -- Republication, Rebroadcast or any other Reuse without the express written consent of Bay City News, Inc. is prohibited.

####