Investigation fails to answer
how Karr evidence disappeared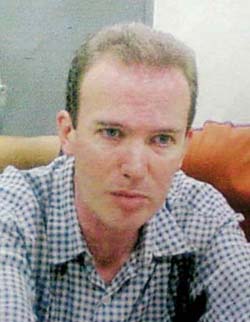 John Mark Karr
By James Lanaras

September 27, 2007
The Sonoma County Sheriff's Department said yesterday that its internal investigation could not determine when or how a computer hard drive in John Mark Karr's dismissed child pornography case disappeared from its evidence cache.
The hard drive allegedly belonged to Karr's computer and allegedly contained five photos of children in sexual situations. The Sonoma County District Attorney's Office dropped misdemeanor child pornography charges against Karr on Oct. 5 because the sheriff's department could not locate the hard drive which would have established when the pornography was downloaded or accessed by Karr.
In a press release this afternoon, sheriff's Capt. Dave Edmonds reiterated the department's earlier statement that the hard drive might have been lost when the department moved to its new headquarters in April 2002, the year after Karr was charged with possession of child pornography.
"During this move, roughly 175,000 items of evidence were cataloged and relocated to new storage facilities.
"We have no knowledge of any other Sheriff's Property Room evidence items being lost during this timeframe," Edmonds said.
Edmonds said that while the internal affairs investigation found "most of the casework (in Karr's case) was strong and well-documented, the investigation found policy and procedure violations with the performance of three Sheriff's Department employees.
"The performance issues concerned adherence to proper case management and documentation as it related to several specific investigative efforts," Edmonds said. He did not elaborate and did not immediately return a phone call this afternoon.
Edmonds said the internal investigation found the department's current report writing and case management procedures implemented since 2001 "have resolved the circumstances that made them possible."
Karr, who insisted he was present when 6-year-old beauty pageant queen JonBenet Ramsey was killed in her Boulder home in 1996 but was not prosecuted in Colorado, was released from the Sonoma County jail on Oct. 5 after his case was dismissed.
Questions about the prosecution's evidence tied up the trial proceedings for several weeks a year ago until Sonoma County District Attorney Stephan Passalacqua said his office could not proceed with the case even though the sheriff's department said it had a "mirror image" copy of the missing hard drive.
Passalacqua said because the copy of the hard drive was reused, the prosecution could not retrieve the images and had no evidence to prove when Karr allegedly downloaded and accessed the pornography.
Karr, 42, moved to Petaluma in 2000 and worked briefly as a teacher's aide in Sonoma and Napa counties and in San Francisco in 2000 and 2001.
He was arrested in April 2001 after police learned of e-mails regarding children that Karr sent to a Petaluma woman. He was released in October 2001 while his trial was pending and disappeared in December 2001.
He was returned to Sonoma County for prosecution after Colorado authorities said they would not prosecute him for JonBenet Ramsey's murder because DNA tests did not place him at the crime scene.
The Sonoma County Sheriff's Department also underwent an independent audit of its property and evidence operations after the Karr case, Edmonds said.
"The auditor rated the Sonoma County Sheriff's Department's property and evidence handling in the top five percent of all law enforcement property rooms in California, with only one other California law enforcement agency rating better in nine years," Edmonds said.
In the press release Sheriff Bill Cogbill said, "The John Mark Karr case resulted in criticism (sic) of our Department. Law enforcement is rightfully held to an exceedingly high standard - when we fall short of this high mark we must hold ourselves accountable, learn from it and improve."
####