Schwarzenneger declares special election
for Lantos' seat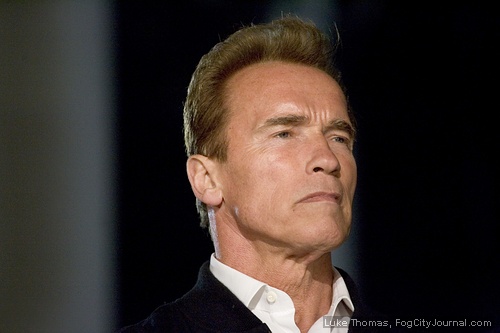 Gov. Arnold Schwarzenegger
Photo by Luke Thomas
By Caitlin Cassady
February 13, 2008
Gov. Arnold Schwarzenegger issued a proclamation Tuesday declaring that a special election will be held June 3 to elect a congressional representative to fill the seat left vacant after Congressman Tom Lantos' death Monday.
June 3 is the statewide direct primary election, according to the San Mateo County Elections Office.
Lantos died early Monday morning at the Bethesda Naval Medical Center in Maryland due to complications from cancer.
The 80-year-old congressman, who was diagnosed with esophageal cancer in late December, announced he would not seek re-election to the U.S. House of Representatives on Jan. 2, but had committed to serving the rest of his 14th term through December, spokeswoman Lynne Weil said. Before his death Lantos had endorsed former state Sen. Jackie Speier as the candidate for his congressional seat.
Lantos, D-San Mateo/San Francisco, was the only Holocaust survivor to be elected to Congress and served as a senior member of the House Committee on Oversight and Government Reform. He was the founding co-chairman of the 24-year-old Congressional Human Rights Caucus, and was elected chairman of the House Committee on Foreign Affairs in January 2007, according to Weil.
He leaves behind his wife, two daughters, 18 grandchildren and two great-grandchildren.
A public memorial service will be held Thursday for Lantos at Statuary Hall in the U.S. Capitol in Washington, D.C., according to Weil.
--
####