Senator confirms reporting Jew extortion allegations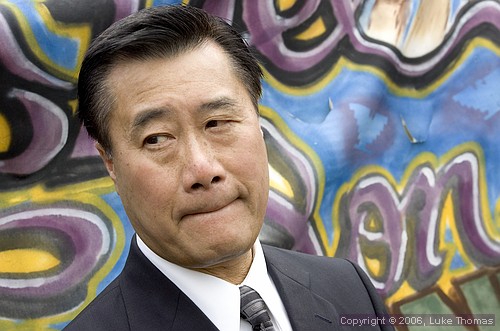 Senator Leland Yee
Photo by Luke Thomas
By Ari Barak and Caitlin Cassady
January 14, 2008
Days after the resignation of San Francisco Supervisor Ed Jew, state Sen. Leland Yee today issued a statement acknowledging his role in informing law enforcement of extortion allegations for which Jew is now facing federal charges.
"In April 2007 I was given information that Ed Jew was attempting to extort funds from the owners of a Quickly tapioca business," said Yee, D-San Francisco/San Mateo.
"As a Senator sworn to uphold the Constitution and as someone who has dedicated my career in public service to protecting the interests of our residents, I have the legal and moral responsibility to pass such information on to the proper authorities," Yee said.
"I do not and have not passed judgment on Ed Jew, but it was my ethical responsibility to inform the proper law enforcement officials to investigate," he added.
Jew, 47, a Chinatown flower shop owner, is facing federal charges of mail fraud, bribery and extortion in connection with an alleged scheme to solicit $84,000 from the owners of eight tapioca drink shops and a dessert cafe in exchange for help in obtaining city permits.
Jew also faces state criminal charges for allegedly lying about his residency in the Sunset District he represented, instead reportedly living in Burlingame. He has been charged with nine felony counts of perjury, election code violations, voter fraud and providing false documents related to his residence.
Citing financial burdens on both himself and on taxpayers, Jew announced his resignation from the Board of Supervisors Thursday. He maintained that he has always been a San Francisco resident.
Yee called his decision to report the information on Jew "emotionally taxing" because of their past relationship, but added, "If I had not done so, I would have been breaking the law and not upholding the trust given to me by the voters."
Copyright © 2008 by Bay City News, Inc. -- Republication, Rebroadcast or any other Reuse without the express written consent of Bay City News, Inc. is prohibited.
####