California promises new execution procedure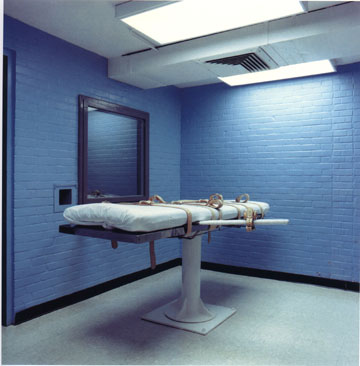 Photo courtesy Death Penalty Information Center
By Jason Bennert, City News Service

January 16, 2007
California state prison officials said today that they would present a new lethal injection procedure for a federal judge's approval by May 15.
Executions in California have been effectively halted for the better part of a year due to concerns by U.S. District Court Judge Jeremy Fogel that the three-drug procedure, known as OP 770, potentially violates the Constitution's ban on "cruel and unusual punishment'' because of the possibility that condemned inmates may feel excruciating pain when two of the drugs are administered.
Last month Fogel issued a ruling that definitively called California's current procedure unconstitutional. However, Fogel left open the possibility that a new procedure could be found constitutional.
"Lethal injection is broken, but it can be fixed,'' Fogel wrote in his December ruling.
"The Defendants and the Governor's Office intend to review and revise OP 770 and to correct deficiencies in the implementation of the protocol. Care must be taken, however, to ensure that the efforts are comprehensive and effective,'' according to the filing by Senior Assistant Attorney General Dane Gillette.
Fogel issued his ruling in connection with the appeal of convicted killer Michael Morales, who was just hours away from death last February when Fogel effectively halted the executions in the state. Morales was sentenced to death in 1983 for the 1981 rape and murder of Lodi resident Terri Winchell.
Copyright © 2007 by Bay City News, Inc. -- Republication, Rebroadcast or any other Reuse without the express written consent of Bay City News, Inc. is prohibited.

####