Free public transit available Monday
following MacArthur Maze connector meltdown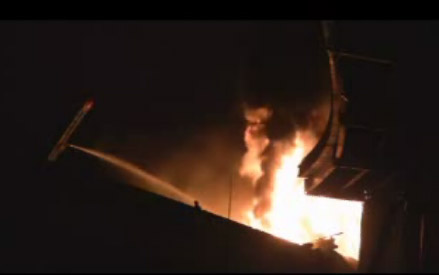 YouTube video screenshot courtesy baconmonkey.
By Lara Moscrip and Ari Barak

April 29, 2007
Following this morning's collapse of a section of highway in Oakland's MacArthur Maze, Gov. Arnold Schwarzenegger issued a statement saying the state will reimburse Bay Area transit authorities for free public transit service offered for commuters on Monday.
The interchanges from eastbound Interstate Highway 80 to eastbound Interstate Highway 580, and from westbound Interstate Highway 80 to southbound Interstate Highway 880, remain closed indefinitely after a tanker truck crashed and exploded, prompting the collapse early this morning, according to Caltrans.
Bay Area Rapid Transit will run longer trains all day Monday, adding more cars for increased capacity, according to BART spokesman Jim Allison. Additional trains between the Pleasant Hill and Montgomery Street stations, and the Daly City and Richmond stations, will run during commute hours, Allison said. BART riders will travel free of charge Monday and BART officials will meet Monday to determine plans for Tuesday.
As parking at many BART stations is in high demand, Allison urged commuters to carpool or take the bus to BART stations and to arrive early or leave for work a little later, if possible. Parking will be free at BART stations, except for parking in reserved lots. BART police will enforce reserved parking regulations, according to Allison. BART recommends parking at North Concord/Martinez, Richmond, Coliseum/Oakland Airport, Hayward, South Hayward, Colma, South San Francisco, San Bruno and Millbrae parking lots.
AC Transit buses will be operating on a normal schedule Monday and all available buses and personnel will be available, according to spokesman Clarence Johnson. All riders will travel for free, Johnson said. AC Transit does not have many extra buses or drivers available to substantially increase its service between the East Bay and San Francisco, Johnson said. However, he added, the current bus lines normally have between 40 and 50 percent of their capacity unfilled, and should be able to accommodate additional passengers tomorrow, Johnson said.
According to Johnson, bus lines into San Francisco will stop at all regular stops, but the buses may use alternate routes to avoid congestion on Interstate 80. Because many buses make more than one trip to San Francisco during the morning commute, later trips leaving the East Bay may be delayed if the bus has to use a longer route to return to the East Bay, Johnson said.
However, AC Transit plans to attempt to make all scheduled trips, even if they are delayed.
Local routes may also be affected during the day on Monday by traffic that is diverted from the freeways onto local streets. According to Johnson, Monday's evening commute from San Francisco to the East Bay will be significantly affected and bus lines that normally use eastbound Interstate 580 will be rerouted. There will also be additional buses available in San Francisco to try to keep the schedule on track for the afternoon commute, Johnson said.
Alameda-Oakland Ferry service between Oakland and San Francisco will be doubled from 13 to 26 ferries for the morning and evening commutes, San Francisco Municipal Transit Authority spokeswoman Maggie Lynch said.
Passengers on using the SFMTA will also ride for free Monday.
Lynch also encouraged East Bay commuters to use the Casual Carpool Program in San Francisco during the afternoon rush hour. It is located on the east side of Beale Street between Howard and Folsom streets, and offers service to Hercules, Fairfield, Vallejo, North Berkeley, Orinda, Lafayette and Oakland/Lakeshore, according to Lynch.
The San Francisco Police Department at the SFMTA will monitor on and off-ramps during the morning commute and will assist traffic flow at freeway entrances during the afternoon commute, Lynch said.
While the westbound roadways from Interstate Highway 580 and Interstate Highway 80 to the Bay Bridge remain open, drivers trying to reach eastbound Interstate Highway 580 from the Bay Bridge will have to find alternate routes, according to the California Highway Patrol.
CHP officials today recommended several alternate routes for drivers traveling to locations throughout the Bay Area.
For drivers traveling from San Francisco to Hayward, take eastbound Interstate Highway 80 over the Bay Bridge to southbound Interstate Highway 880.
For drivers going from San Francisco to Walnut Creek: after the Bay Bridge, exit eastbound Interstate Highway 80 at West Grand Avenue, take a left on Northgate Avenue, then enter the on-ramp to eastbound Interstate Highway 580 towards state Highway 24, and take eastbound state Highway 24 to Interstate Highway 680.
Four other alternate routes from San Francisco to parts of the East Bay are recommended:
-Take eastbound Interstate Highway 80 and exit the Albany/Buchanan off-ramp, turn left under the freeway, left onto westbound Interstate Highway 80, and follow to eastbound Interstate Highway 580.
-Take southbound U.S. Highway 101 to the eastbound San Mateo Bridge (state Highway 92) to Interstate Highway 880 north or south.
-Take southbound U.S. Highway 101 to the eastbound Dumbarton Bridge (state Highway 84) to Interstate Highway 880 north or south.
-Take northbound U.S. Highway 101 over the Golden Gate Bridge to the Richmond-San Rafael Bridge on eastbound Interstate Highway 580.
For drivers going from Richmond to San Jose: take westbound Interstate Highway 80 to eastbound Interstate Highway 580, then take westbound Interstate Highway 980 to southbound Interstate Highway 880.
Going from Richmond to San Francisco, drivers can take westbound Interstate Highway 880 to the Bay Bridge without any detours.
Going from San Francisco to Sacramento, drivers can take eastbound Interstate Highway 880 to Sacramento without any detours.
Copyright © 2007 by Bay City News, Inc. -- Republication, Rebroadcast or any other Reuse without the express written consent of Bay City News, Inc. is prohibited.
####