Supervisors amend regulations
on medical cannabis dispensaries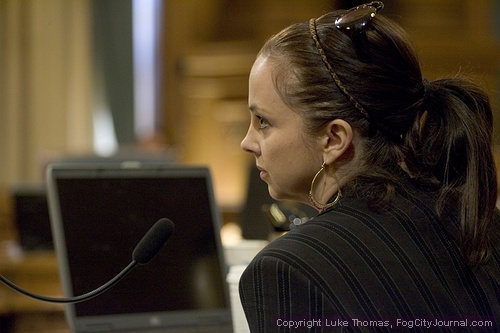 Legislation that extends grace periods to San Francisco medical marijuana dispensaries
to come into compliance with new construction standards, was passed by the board today.
The legislation was sponsored by Supervisor Michela Alioto-Pier.
Photo(s) by Luke Thomas
By Emmett Berg
September 18, 2007
Legislators in San Francisco today updated an ordinance regulating the permitted medicinal cannabis dispensaries in the city after months of protracted negotiation over a lawmaker's push to force new construction standards on the pot clubs.
On votes of 8-2 and 7-3 the Board of Supervisors pushed back the grace period for clubs seeking city permits to March 1, 2008. More than two-dozen now operate under permit in San Francisco.
The legislation amended health and planning codes and was sponsored by Supervisor Michela Alioto-Pier.
It establishes stricter minimum disability access standards for dispensaries as well as cleared the way for home delivery of marijuana to patients in San Francisco who can provide a verifiable, written recommendation from a physician for medical cannabis. Those delivery only dispensaries, often located in a residence, were exempted from the minimum disability access standards.
The split votes allowed Alioto-Pier to register a protest vote after seeking stronger disability access provisions for ground-floor dispensaries. Originally Alioto-Pier proposed getting the dispensaries to bring disabled access standards up to what is demanded for new construction in the city.
Disabled access standards apply to businesses citywide under the direction of the federal Americans with Disabilities Act. The decades-long process of implementing the Act has resulted in improved access in modern structures but less so in older buildings where narrow corridors and doors sometimes make retrofits difficult or impossible.
If business owners demonstrate an unreasonable hardship they can usually get by with less than fully modern disabled access conditions until they make appreciable investments in improvements.
Applicants for permits to operate a dispensary must not have been convicted of certain felonies and also must pay a $6,691 application fee. The amended codes say the Department of Health will "make reasonable efforts to arrange" criminal background checks through fingerprinting companies approved by the U.S. Department of Justice. The applicant pays the cost of the checks.
Copyright © 2007 by Bay City News, Inc. -- Republication, Rebroadcast or any other Reuse without the express written consent of Bay City News, Inc. is prohibited.
####