Mirkarimi blasts City over Western Addition violence
"I'm all over the mayor and all over the police chief,
and all over city agencies to give me a detailed plan"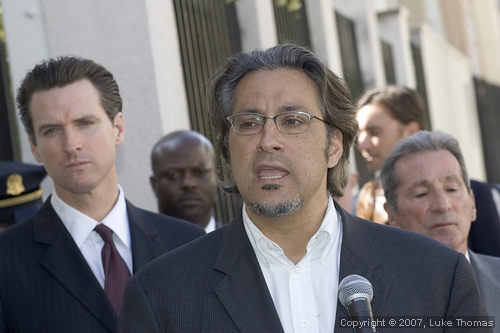 Supervisor Ross Mirkarimi. File photo, 3/6/7
Photo(s) by Luke Thomas
By Tamara Barak

June 14, 2007
San Francisco Supervisor Ross Mirkarimi this morning blasted the city's mayor, police chief and district attorney after two separate shootings in the same Western Addition public housing project wounded seven people.
This morning's triple shooting in the Friendship Village development between McAllister and Fulton streets occurred in the same area where four people - including an innocent bystander - were shot less than 12 hours earlier.
"It's literally the same location - we're talking not even 5 yards away," Mirkarimi said.
Mirkarimi, who represents the neighborhood on the city's Board of Supervisors, said he came out to the scene of both shootings.
After the first incident, San Francisco Police Chief Heather Fong assured him she would provide police presence in Friendship Village, Mirkarimi said.
"I expected a fixed presence of SFPD and I learned there was not and I'm not happy about it," he said.
Medical personnel responded to this morning's triple shooting at 8:53 a.m. at 3 Friendship Court, San Francisco fire Lt. Mindy Talmadge said all three people were conscious and breathing and were transported to San Francisco General Hospital, Talmadge said.
Mirkarimi said the victims were teenage boys.
"I'm theorizing, but I believe it was gang-related," he said. "We need an aggressive intervention to deal with the gun violence that's occurring between different housing developments."
Wednesday night's shooting at the housing project was reported 9:31 p.m. Police said that three males were walking when they were approached by a group of seven males who began shooting at them, wounding the trio.
Two of those victims were transported to San Francisco General Hospital and are expected survive, according to police. The third person went to Kaiser Permanente San Francisco Medical Center by himself and is fighting for his life, police said.
A fourth victim - a male bystander who was hit by a stray bullet - is expected to survive, police said.
Mirkarimi said he is frustrated with District Attorney Kamala Harris' failure to aggressively prosecute cases he's referred to her office.
"The district attorney needs to start prosecuting cases that show people that you can't commit violent crime with impunity," Mirkarimi said.
"You have - literally - elementary school kids and teenagers carrying guns and shooting people and not knowing the difference between right and wrong.
If their parents and guardians have abdicated their ability, then someone needs to step up to the plate."
The supervisor said it's been an "agitating" experience trying to get coordinated violence prevention services from the city's juvenile probation, recreation and parks and workforce development departments to combat the Western Addition's spike in violence.
"Today I'm all over the mayor and all over the police chief and all over city agencies to give me a detailed plan," as to how they're going to provide a safe summer, Mirkarimi said.
Copyright © 2007 by Bay City News, Inc. -- Republication, Rebroadcast or any other Reuse without the express written consent of Bay City News, Inc. is prohibited.
####