MUNI explores adding double deckers to bus lines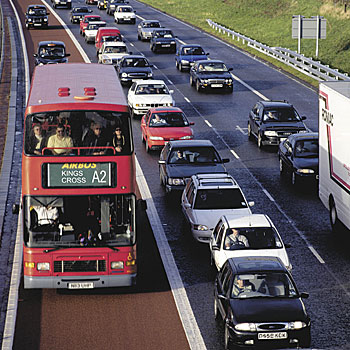 A double-decker bus zips along a bus and taxi only lane in rush-hour traffic in England.
MUNI is exploring the use of double-decker buses in an effort
to improve publc transportation performance in San Francisco.
Photo courtesy Highways Agency
By Laura Dudnick
December 7, 2007
The first double deck San Francisco Municipal Transportation Agency transit bus will be introduced to city streets Wednesday for a nearly month-long trial period, a Muni spokesman said Thursday.
Riders will be able to take the bus free of charge during the trial period, said Alan Siegel, a Muni spokesman. Riders can then offer their input to help determine the effectiveness of the double deck bus within the transit system, according to Siegel.
"We are testing it and seeing how well it fits in our fleet," Siegel said. The public's response will tell officials "whether or not we want to continue looking at that type of bus. We're looking at a lot of different options."
The transit agency is borrowing the bus for the trial period from the British bus manufacturing company Alexander Dennis Limited, according to Siegel.
The size of the bus is efficient both for the driver and for the passengers, Siegel said.
The 40-foot long double deck bus will take up less space on the street than the 60-foot articulated buses usually driven throughout the city and will seat more passengers than the articulated buses, Siegel said. The double deck bus is 14 feet tall, allowing 4 feet of space between the bus and the electrical wires used by other Muni buses, he added.
During its trial period the bus will run on more popular Muni lines, but the schedules are subject to change depending on the public's response, Seigel said.
To see an updated list of lines the bus will use, visit www.sfmta.com/double.
Passengers riding the bus during the trial period have the option of filling out a survey on the bus. "The public will have a large hand in determining if (the bus) will be successful," Siegel said.
The trial period is scheduled to end Jan. 9. The transit agency is considering other options to improve transportation services in the city as well and will showcase further options as they become available, according to the agency.
Copyright © 2007 by Bay City News, Inc. -- Republication, Rebroadcast or any other Reuse without the express written consent of Bay City News, Inc. is prohibited.
####