City plans GPS tracking of all transit vehicles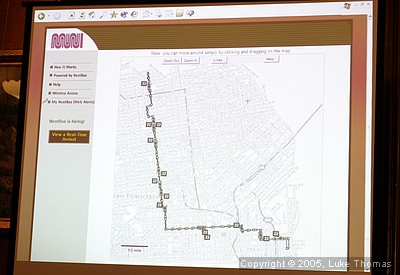 Photo(s) by Luke Thomas
By Tamara Barak, Bay City News Service

March 30, 2007
SAN FRANCISCO (BCN) - Come August, commuters in San Francisco may spend considerably less of their lives waiting for transit.
NextMuni, which pinpoints the location of approaching busses and trains through a global positioning satellite system, plans to include all of the city's transit vehicles in its service.
The NextMuni system, which is provided by Alameda company NextBus.com, started out by tracking only Metro street car lines and the 22-Fillmore trolley bus. On March 15, it added all street cars and electric busses.
By August, all San Francisco transit vehicles will be online, said Michael Smith, director of engineering for NextBus.
"People will notice a lot of changes over the next few months," Smith said.
The GPS trackers on the busses track its location back to NextMuni, and the company then provides real-time information to commuters through their computers, cell phones and hand-held devices. The company is also installing 400 electronic signs at transit stations throughout the city that will inform travelers of how soon their bus or train will arrive.
"We take the position of the bus, along with configuration and historical information, and we make the calculation of when the bus will actually arrive," Smith said.
NextBus provides a similar service in other cities, including Washington D.C. It also tracks AC Transit service in Alameda County.
"We actually reduce the time it takes to get from home to work. Instead of waiting at a bus stop, you can wait at home and read a newspaper, or go get a cup of coffee," Smith said.
Nextbus is also using its technology to provide San Francisco Municipal Transportation Agency officials with data they can use to improve on-time performance of their system, which has long been criticized by riders.
Smith said he hopes the service will increase ridership on public transit.
"Everyone talks about how important public transportation is, but most people drive because it's so much quicker. If we want people to take transit, we have to improve it," he said.
In another effort to modernize the Muni system and make it more rider-friendly, SFMTA will begin sell its montly FastPasses online starting April 10.
On April 2, the city will also start selling its prepaid parking cards online. The cards are used at city parking meters.
Both the parking cards and the FastPasses will be available at www.sfmta.com
Copyright © 2007 by Bay City News, Inc. -- Republication, Rebroadcast or any other Reuse without the express written consent of Bay City News, Inc. is prohibited.
####