Newsom calls for cuts, hiring freeze
in face of looming budget deficit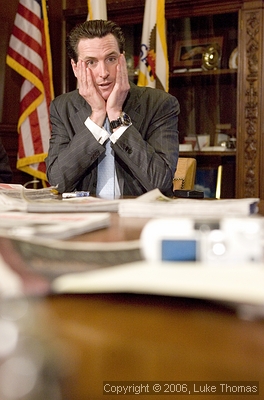 Mayor Gavin Newsom
Photo by Luke Thomas
Bay City News
November 29, 2007
Faced with a looming budget deficit, San Francisco Mayor Gavin Newsom yesterday called for an immediate hiring freeze and 13 percent across-the-board cuts to city departments.
The mayor's office has projected a $229 million shortfall for fiscal year 2008-2009, with continuing deficits for the following year.
Newsom says the anticipated deficit partially stems from $133 million spent for more police officers, nurses and park maintenance workers and another $72 million in voter-approved spending for Muni improvements.
Newsom said a "projected deficit simply means that the city is going to have to tighten its belt in terms of spending."
He said the city's revenue "continues to be strong" and the local economy is "in very good shape."
General city revenues for 2008-2009 should grow by 5 percent from the previous year, "but any growth over the 5 percent would require deposits to the Rainy Day Reserve and very little would be available for general fund spending," Newsom said.
The mayor's office is also taking into account added deficit that may occur next year when the governor's budget is announced. The state is facing an estimated $10 billion shortfall next year, Newsom said.
Copyright © 2007 by Bay City News, Inc. -- Republication, Rebroadcast or any other Reuse without the express written consent of Bay City News, Inc. is prohibited.
####