Newsom report ties Earthlink Wi-Fi deal
to San Francisco digital inclusion promise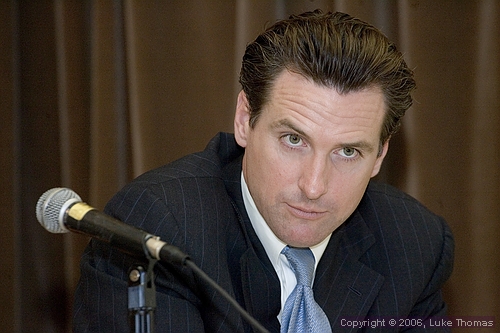 Mayor Gavin Newsom. File photo (10/23/6)
Photo(s) by Luke Thomas
By Tamara Barak, Bay City News Service

January 16, 2007
SAN FRANCISCO (BCN) - San Francisco Mayor Gavin Newsom today released a report outlining the city's efforts to bridge the digital divide that separates its low-income, elderly, and disabled citizens from the benefits of technology.
The report, called the Digital Inclusion Strategy, aims to build on the Jan. 5 deal between the city and Earthlink to offer free wireless Internet access throughout the city.
The report was put together over nine months by the city's Department of Telecommunications and Information Services, along with the 13-member Digital Inclusion Task Force, made up of community-based technology stakeholders.
"Several years ago, we decided not just to identify the realities of the digital divide, but begin to address them," Newsom said at a press conference at Balboa High School today.
While ubiquitous Wi-Fi promises to enhance residents' lives by easing their access to education, information and city services, "we're leaving literally hundreds of thousands of San Franciscans behind," Newsom said.
Wi-Fi is just one piece of the puzzle, he said.
"Not everyone knows what a portal is. Not everyone understands what broadband is. Not everyone knows the benefits technology can provide. You need the tools, you need the hardware, the training."
In addition to free wireless Internet access, the Digital Inclusion Strategy outlines five other elements for closing the digital divide: computer ownership and basic training, digital safety and responsibility, enhanced digital literacy programs, multi-language Internet content and online services and accessible solutions to accommodate seniors and people with disabilities.
The plan proposes multiple ideas for each of its proposals. Strategies for providing computers and equipment to low-income families, for example, include developing a low or no-interest computer purchase program by partnering with technology vendors, then distributing the equipment and providing training through the San Francisco Unified School District.
Another possibility is organizing technology fairs in the city's low-income neighborhoods where participants can sign up for the computer purchase programs and refurbished computer vendors can collect donated equipment to fix up and sell at a discount.
Other ideas in the plan include holding city-sponsored online safety seminars for parents, promoting technologies that help the visually impaired, partnering with nonprofits to provide multi-lingual technology support, offering one-day training events staffed by volunteers, and enlisting the help of community colleges to bring computer courses to San Francisco neighborhoods.
Annie Chung, acting chair of the Digital Inclusion Task Force, said that through conducting computer classes for the elderly in Chinatown, she has seen firsthand the world that opens up when seniors learn about technology.
"It's so gratifying to see an 80-year-old senior upload a picture of a grandchild to share," she said.
Sister Petra Chavez of Caminos Pathways Learning Center said the plan will further the work of her organization, which provides technology education to immigrant women.
"The use of computers and the Internet has changed what employers look for, how people apply for jobs, how communities solve problems. Those without access are perhaps more disadvantaged now than they were before the digital revolution," Chavez said. "Without a technology inclusion plan, they're left out. Digital inclusion cannot be considered a luxury."
Balboa High School student and aspiring writer Christopher Green said he's looking forward to seeing the plan implemented in his school. Last year, he participated in a playwriting internship offered through Balboa High and the otherwise great experience was hampered by lack of technology, he said.
"One of the things that held us back was networking and communication. The students would run into technical problems caused by their slow Internet connection when transmitting their plays electronically to their mentors and their directors.
"It was a hindrance to our inspiration and our productivity," he said.
Copyright © 2007 by Bay City News, Inc. -- Republication, Rebroadcast or any other Reuse without the express written consent of Bay City News, Inc. is prohibited.

####