Newsom awaits City Attorney report on Ed Jew
Jew admits to taking $40,000 in cash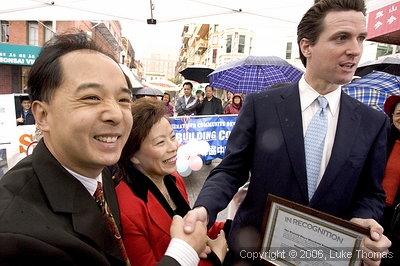 Supervisor Ed Jew and Mayor Gavin Newsom. File photo. 2/2/6
Photo(s) by Luke Thomas
By Emmett Berg
July 10, 2007
Mayor Gavin Newsom's office is awaiting word from City Attorney Dennis Herrera on whether Supervisor Ed Jew's statement that he accepted cash from constituents is enough to be ousted from power.
A spokesman for the mayor, David Miree, said today that Newsom was seeking legal guidance on whether Jew admitting to taking $40,000 in cash from business owners seeking permit help was "tantamount to official misconduct."
Such a finding would allow the mayor to suspend Jew and begin a process of ousting him permanently from his seat on the 11-memmber Board of Supervisors.
That action could take place even before criminal charges filed against the recently elected supervisor played out in a court of law.
Jew is scheduled for an initial court appearance July 16 on nine felony charges related to questions over whether Jew truly lives inside the district he represents, and whether he misrepresented his residence in candidate nominating documents.
A few months after he was elected to represent the Sunset District last fall, Jew became a target of a Federal Bureau of Investigation sting operation.
According to reports, federal agents provided cash in marked bills to owners of restaurants in the Sunset District, who met with Jew in June on the topic of securing city permits.
The supervisor has denied wrongdoing and said he referred the business owners to a consultant who could help in the permitting process.
However, half of the money was later found in Jew's safe, according to reports. No charges have been filed in the federal investigation.
No one from Herrera's office was available to say when the requested opinion might be delivered to the mayor.
Copyright © 2007 by Bay City News, Inc. -- Republication, Rebroadcast or any other Reuse without the express written consent of Bay City News, Inc. is prohibited.
####