Newsom stalker arrested in Union City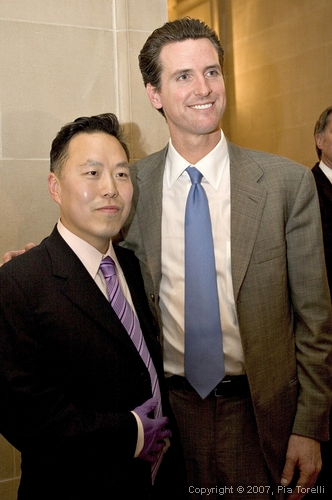 Han Shin with Mayor Gavin Newsom, 2/12/7
Photo by Pia Torelli, World Picture Network, special to Fog City Journal
By Lara Moscrip, Bay City News Service

March 1, 2007
A man accused of stalking San Francisco Mayor Gavin Newsom was arrested last night at his Union City home on suspicion of attempting to run over a man and causing a minor injury to a San Ramon police officer, according to a spokesman for the Contra Costa County Sheriff's Office.
According to spokesman Jimmy Lee, 42-year-old Han Shin went to a house in the 2100 block of Longleaf Circle in San Ramon around 8:45 a.m. in order to confront a man with whom he had once had a romantic relationship.
The person Shin intended to confront wasn't there, but his roommate answered the door, Lee said.
"Han forces his way into the house, pushes his way past the roommate, goes inside, takes some items, including money and a picture of the man he intended to confront," Lee said.
Shin then left the residence, but the roommate followed Shin outside to find out who the man was, Lee said. At that point, Shin allegedly tried to run over the roommate three times with his vehicle, according to Lee.
San Ramon police officers determined the man's identify as Han Shin, obtained an arrest warrant and took Shin into custody around 8:30 p.m. at Shin's house on Begonia Street in Union City.
According to Lee, Shin was hiding in his closet at the time of the arrest and he allegedly violently resisted the officers as they attempted to take him into custody. One officer suffered minor injuries to his nose, but he was treated at the scene, Lee said.
Shin was arrested on suspicion of robbery, burglary, three counts of assault with a deadly weapon and battery on a peace officer, Lee reported.
He was taken to the Contra Costa County jail in Martinez, Lee said. Lee said that he has heard reports that Shin has been harassing Newsom and he commended the officers on identifying and taking Shin into custody.
Newsom filed a temporary restraining order against Shin that has been in effect since Feb. 21. The case of the temporary restraining order will go before a judge on March 7.
Copyright © 2007 by Bay City News, Inc. -- Republication, Rebroadcast or any other Reuse without the express written consent of Bay City News, Inc. is prohibited.
####