Charges filed against man accused
of stalking San Francisco Mayor Newsom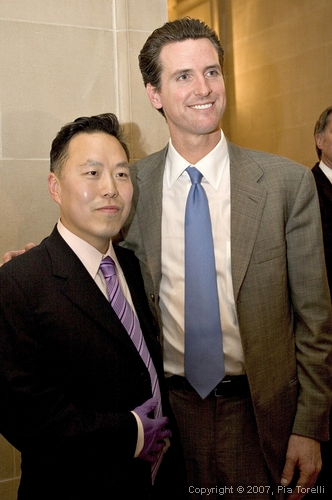 Han Shin with Mayor Gavin Newsom, 2/12/7
Photo by Pia Torelli, World Picture Network, special to Fog City Journal
By Caitilin McAdoo, Bay City News Service

March 5, 2007
Contra Costa County prosecutors filed charges Friday against a Union City man who allegedly tried to run over a San Ramon man Wednesday, according to the district attorney's office.
Han Shin, 42, who has also been accused of stalking San Francisco Mayor Gavin Newsom, has been charged with one count of first-degree residential burglary, three counts of assault with a deadly weapon and one count of vandalism.
He is scheduled to appear in Contra Costa County Superior Court in Martinez for an arraignment at 1:30 p.m. today.
The charges stem from an incident that took place Wednesday morning when Shin reportedly went to a house in the 2100 block of Longleaf Circle in San Ramon to confront a man with whom he had once had a romantic relationship. The person Shin intended to confront wasn't there, but his roommate answered the door, Contra Costa County sheriff's spokesman Jimmy Lee said.
"Han forces his way into the house, pushes his way past the roommate, goes inside, takes some items, including money and a picture of the man he intended to confront," Lee said last week.
Shin then left the residence, but the roommate followed him outside to find out who he was, Lee said. At that point, Shin allegedly tried to run over the roommate three times with his vehicle, according to Lee.
San Ramon police officers identified Shin -- the car he was driving was registered in his name, Lee said -- obtained an arrest warrant and took Shin into custody around 8:30 p.m. at his parents house in the 35000 block of Begonia Street in Union City. According to Lee, Shin apparently lived with his parents.
San Francisco and Union City police also helped with the arrest, Lee said.
Before making their arrest, police had to force their way into the house. They found Shin hiding in a closet, Lee said. As police were attempting to arrest him, he allegedly attacked a San Ramon police detective, hitting him in the face.
The detective was not seriously injured, Lee said.
Lee said that Shin's arrest Wednesday had nothing to do with the allegations that Shin had been stalking Newsom.
Newsom filed a temporary restraining order against Shin that has been in effect since Feb. 21.
According to a complaint filed by the San Francisco City Attorney's office, Shin has been accused of snapping photos of Newsom from the waist down during a public meeting and of sneaking into Newsom's Russian Hill apartment building, where he was escorted out by a doorman.
The case of the restraining order was scheduled to go before a judge in San Francisco on March 7.
Shin also had a warrant out for his arrest from San Mateo County for felony evasion of a police officer, Lee said.
Shin remains in county jail in Martinez. His bail has been set at $160,000 for the Contra Costa County charges with an additional $10,000 for the San Mateo County warrant, according to jail officials.
Copyright © 2007 by Bay City News, Inc. -- Republication, Rebroadcast or any other Reuse without the express written consent of Bay City News, Inc. is prohibited.
####