Newsom sworn in to second term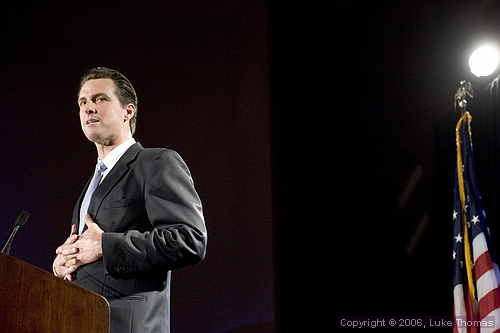 Mayor Gavin Newsom was sworn in to a second term yesterday.
File photo by Luke Thomas
By Ashley Wright
January 9, 2008
Mayor Gavin Newsom was sworn in for his second term Tuesday and spoke on issues of healthcare, homelessness, transportation and the environment in his inaugural address at San Francisco's City Hall.
"On the most important issues of the day, San Francisco is providing leadership for our nation and the world," Newsom said.
The mayor outlined specific goals for his second term, including enrolling 40,000 more residents in the city's universal health care program, according to officials.
He also introduced plans to address the city's homeless population by expanding sobering centers and redesigning shelters into job training and drug treatment centers, officials reported.
Addressing violent crime in San Francisco, the mayor said he plans to hire 250 new police officers and add a new police commander whose only responsibility will be public housing, according to officials.
Newsom said he also plans to improve San Francisco Municipal Railway service and favor possible congestion pricing. He said he also plans to look toward making the city government carbon neutral by 2020, officials reported.
The mayor pledged to create a "Baby Savings Bond," which would award a $500 bond to any child born in the city and would be available to the recipient upon completion of community service, officials said.
Newsom added that he plans to expand the city's 311 service by adding text messaging and Internet components; support new campaign finance laws limiting certain contributions; train workers for green-collar jobs; reform the city's retirement system; expand affordable housing; fight to bring housing and opportunity to Bayview Hunters Point; and mandate a community service requirement in all high schools, officials reported.
"I cherish this opportunity to lead, and I will work with all of you to make every single one of these most precious days count," Newsom said to attendees.
Copyright © 2007 by Bay City News, Inc. -- Republication, Rebroadcast or any other Reuse without the express written consent of Bay City News, Inc. is prohibited.
####