Newsom to pay Tourk's salary from own pocket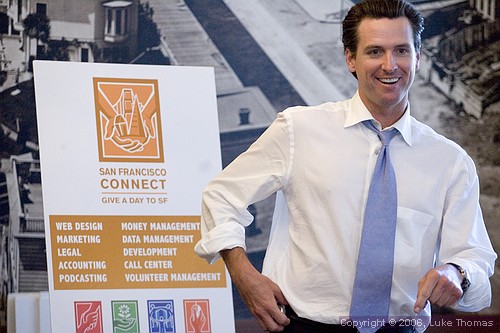 Mayor Gavin Newsom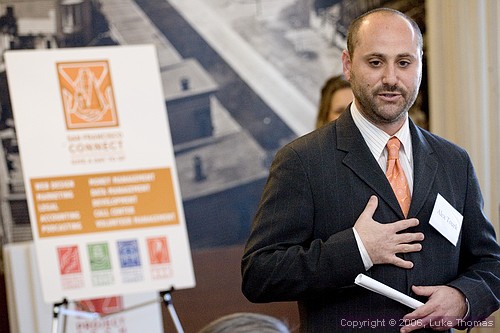 Former Deputy Chief of Staff and Newsom campaign manager Alex Tourk
Photo(s) by Luke Thomas
By Tamara Barak, Bay City News
February 8, 2007
SAN FRANCISCO (BCN) - San Francisco Mayor Gavin Newsom will pay former campaign manager Alex Tourk a $15,000-a-month salary out of his own pocket until Tourk secures another job, a spokesman for Tourk's attorney said today.
Newsom decided to personally fund Tourk's financial settlement Wednesday evening, according to Sam Singer, spokesman for attorney Steven Kay.
"The Newsom campaign attorney said the campaign finance law is unclear whether the campaign could make payments to Alex Tourk so Newsom decided the most appropriate way to fulfill his commitment was to personally pay any remaining salary to Mr. Tourk," Singer said.
Tourk resigned Jan. 31 after confronting the mayor about having an affair Newsom had with his wife, Ruby Rippey-Tourk. At that time, Newsom agreed to continue to pay Tourk's salary, according to Singer.
Since his resignation, there was a question of where to get the money to pay Tourk. As campaign manager, Tourk's salary had been paid out of Newsom's re-election budget.
The city attorney's office also investigated whether it was legal for a candidate to continue to pay a staff member after the employee resigns and concluded that it may or may not be legal depending on the circumstances, said Jim Sutton, attorney for the Newsom campaign.
But Sutton said input into the payment question from the city's Ethics Commission and the city attorney was "incomplete and wrong" and in no way influenced Newsom's decision to pay Tourk out of his own pocket.
"We didn't see the Ethics Commission or city attorney analysis until we had already researched the legal issues and figured out it's not that straightforward," Sutton said.
Sutton said that although there was never a commitment to use campaign funds to continue to pay Tourk, the mayor had made a personal promise to continue Tourk's salary.
"It's an unclear legal question and it's such a unique situation, it doesn't fit neatly into the campaign laws," Sutton said. "The mayor decided, 'You know what? I don't care what the law says. The simplest and most appropriate action is to personally pay Mr. Tourk.'"
Tourk has not yet received any payment since resigning, Singer said.
The day after Tourk's resignation, the mayor admitted to the affair with Rippey-Tourk at a news conference at San Francisco City Hall. On Monday, the mayor announced he would seek treatment for alcohol abuse.
Newsom reportedly had the brief affair when Rippey-Tourk served as his appointments secretary, some time between 2004 and last spring.
Singer said Tourk's unemployment period will likely be very short. He has been on "numerous interviews" this week and has more scheduled for next week.
"He's a highly-respected and talented young man," Singer said. "He has a number of offers in hand and is weighing his next steps."
Tourk has been interviewing for positions with corporations, non-profit organizations and non-governmental agencies as well as for political consulting jobs, Singer said.
Copyright © 2007 by Bay City News, Inc. -- Republication, Rebroadcast or any other Reuse without the express written consent of Bay City News, Inc. is prohibited.
####