Newsom campaign manager tenders resignation
Tourk cites "personal reasons"
Sources say Newsom had affair with Tourk's wife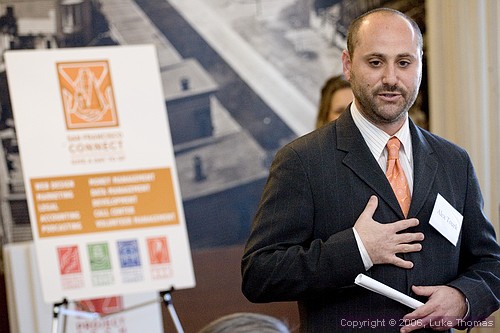 Mayor Newsom's Deputy Chief of Staff and Campaign Manager Alex Tourk
tendered his resignation earlier today. File photo 4/27/6.
Photo(s) by Luke Thomas
Fog City Journal developing story
January 31, 2007, 4:00 p.m.
From the Newsom for Mayor Campaign
The Gavin Newsom for Mayor campaign today announced the resignation of Campaign Manager Alex Tourk.
Tourk said, "It has been an honor and a privilege to serve the Newsom campaigns and the City of San Francisco and its residents. However, for personal reasons, I must resign my position as Campaign Manager of the Mayor's re-election campaign. I am honored that, as Deputy Chief of Staff, I helped create and implement key policy initiatives such as the Homeless Connect program that is now a national model for its compassionate and comprehensive approach to helping the homeless."
Mayor Gavin Newsom said, "It is with great sadness that we accept Alex's resignation. He has been an extraordinary leader of our campaigns and a tireless public servant. He was instrumental in my first election, organizing a strong early re-election effort and shaping successful policy during his service with the City and County of San Francisco. We all wish Alex well and know he will be successful in all of his future endeavors."
Senior Campaign Strategist Eric Jaye said, "We wish our friend and colleague Alex Tourk all the very best. The campaign moves forward, but he will certainly be missed."
5:05 p.m.
Fog City spoke with Jaye by phone and asked him to comment on the reasons Tourk cited for tendering his resignation.
Jaye said: "Let the statement speak for itself."
Jaye reported he and others would be taking over the role of managing the Newsom for Mayor campaign in the interim.
7:00 p.m
Sources requesting anonymity are telling Fog City Journal Tourk resigned today following revellations his wife, Ruby Tourk, had an affair with Mayor Gavin Newsom.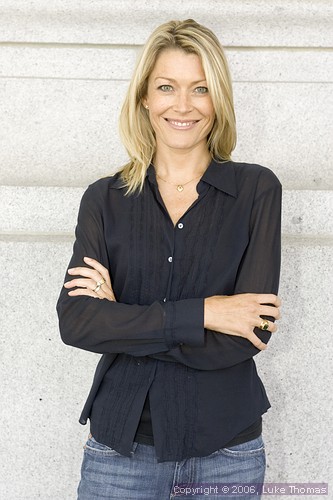 Ruby Tourk
Sources reveal a sexual harrassment lawsuit is being considered by Ruby Tourk against the Mayor's Office and/or the CIty of San Francisco. Ruby Tourk has not returned calls for comment.
February 1, 2007 9:00 a.m.
We're hearing a press conference or an announcement is being planned for this morning.
10:13 a.m.
A press conference has been scheduled for 11:30 a.m. in the Mayor's Office, City Hall.
10:33 a.m
San Francisco City Hall, in full scandal mode:

The media and curiosity seekers are gathering, awaiting the 11:30 press conference. The mood is largely one of shrugged shoulders over the sex and drugs in Room 200, even as more salacious rumors float by.
No, the real tsk-tsking is over the betrayal of one of Gavin's best friends, and the defiant denials by the mayor's arrogant spin team that allowed this situation to persist for so long.
Will the stonewalling continue? Some expect the Newsom house to crumble at least slightly. A growing list of mayoral hopefuls is already cutting deals of mutual support should the Mayor choose to withdraw from his race for reelection, an entirely plausible possibility. If so, add Carol Migden and Bevan Dufty to our previously reported list of conceivable candidates.
Up next: a report, photos, and videos of the mayor's 11:30 press conference. And details on the stonewalling of this whole sad affair. Sex might not derail leadership. But stonewalling certainly does.
12:30 p.m.
Newsom admits to affair:
"I want to make it clear that everything you've heard and read is true and I feel deeply sorry about that.
"I hurt someone I care deeply about, Alex Tourk, his friends and family, and that is something I have to live every second of my life.
"I am also sorry I let the people of San Francisco down.
"They expect a lot of their mayor and my personal lack of judgment aside, I am committed to restoring their trust and confidence and will work very hard in the upcoming months to make sure the business of running the city is handled appropriately.
"I also want to extend a personal apology to everyone in my administration, to my staff that I just met with, and to my friends and my family members.
"I am deeply sorry and accountable for what has occurred, and now becomes the process of reconciling it and now working aggressively to advance the agenda in the city, and to work hard to build trust again, to restore the trust for the people of San Francisco."

Fog City Journal's Luke Thomas and Daniela Kirshenbaum are contributing to this developing story.
####