Bay Area Nurses to strike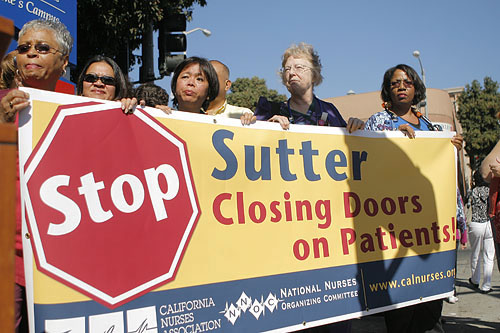 As manay as 5,000 Bay Area registered nurses are expected to stage a two-day strike
on Wednesday and Thursday over patient care practices at Sutter Health hospitals,
as well as health insurance benefits.
Photo(s) by John Han
By Jeff Shuttleworth
October 9, 2007
California Nurses Association officials and hospital managers agreed yesterday that it appears virtually certain that 5,000 registered nurses at 15 hospitals in Northern California, mostly in the Bay Area, will stage a two-day strike on Wednesday and Thursday.
But union and management officials disagreed about the reasons for the labor impasse as well as the details of management's contract offer.
Speaking at a news conference at the union's headquarters in Oakland, CAN executive director Rose Ann DeMoro said the principal issues in the dispute are patient care practices at the Sutter Health hospital chain as well as health insurance benefits.
But Kevin McCormack, the spokesman at California Pacific Medical Center in San Francisco, one of the hospitals threatened with the two-day strike, said he believes the dispute actually centers on what he described as the union's "aggressive membership drive."
McCormack said the union wants to change the organizing language in nurses' contracts so that it's easier for the union to recruit more members.
He said it's illegal for the nurses' union to strike over organizing issues, so instead the union says it's concerned about patient care.
DeMoro alleged that Sutter wants to cut back on health care benefits for nurses, calling its proposal "a travesty," but McCormack and other spokespersons at Sutter hospitals said their contract offers don't call for any such reductions.
McCormack alleged that the CNA "is confusing people" by giving the impression that Sutter is engaging in a single system-wide bargaining process for all 13 of its facilities in Northern California when in fact each hospital is negotiating individually with the CNA.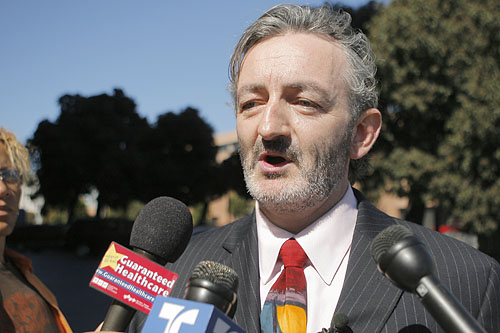 Kevin McCormack
The two-day strike is set to begin at 7 a.m. Wednesday at the 13 hospitals operated by the Sutter Health as well as two hospitals operated by the Fremont-Rideout Health Group in Yuba City and Marysville.
The Sutter hospitals that will be affected are Alta Bates Summit Medical Center, with facilities in Berkeley and Oakland, Mills-Peninsula Health Services in Burlingame and San Mateo, San Leandro Hospital, Eden Medical Center in Castro Valley, and Sutter Delta in Antioch.
Also affected are Sutter Solano in Vallejo, California Pacific Medical Center and St. Luke's in San Francisco, Sutter Santa Rosa, Sutter Marin General Hospital in Greenbrae, Sutter Novato and Fremont-Rideout facilities.
Sutter Delta spokeswoman Dori Stevens said, "We anticipate that the strike will go forward and we are prepared."
She said the hospital plans to bring in 86 outside nurses during the strike.
Debbie Goodwin, vice president of human relations at Mills-Peninsula, said it plans to bring in more than 200 nurses from around the country.
Goodwin said the outside nurses will undergo "intensive training" tonight and tomorrow.
McCormack said California Pacific also will bring in replacement nurses and has canceled some elective surgeries.
McCormack said hospital administrators hope that many nurses will cross the union's picket lines on Wednesday and report to work as normal.
He said many nurses are unhappy about the strike and more than 200 nurses at his hospital signed a petition saying they are happy with management's contract offer but the union ignored them.
Goodin said she believes some nurses at Mills-Peninsula also will cross picket lines.
McCormack said California Pacific is offering nurses a 21.5 percent pay increase over four years as well as to increase their retirement benefits and double their reimbursement for education and other training.
If the contract is approved, the average salary for nurses at California Pacific would be $142,000 a year, he said.
Stevens said Sutter Delta's offer includes a 25 percent wage increase over three years, including a 15 percent pay hike the first year, plus no-premium health care for nurses and their families and increases in nurses' retirement health care accounts.
Goodin said Mills-Peninsula is offering a 19 percent wage increase over four years plus free health care benefits and a fully paid retirement plan.
Copyright © 2007 by Bay City News, Inc. -- Republication, Rebroadcast or any other Reuse without the express written consent of Bay City News, Inc. is prohibited.
####