Dellums teams up with Shorenstein
to build downtown tower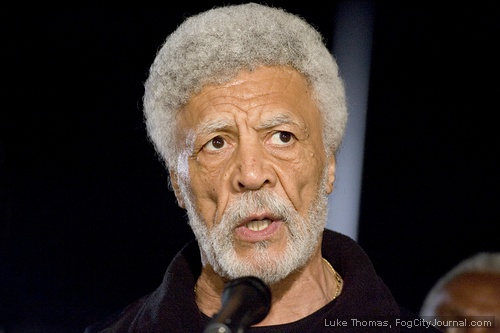 Oakland Mayor Ron Dellums
Photo(s) by Luke Thomas
By Jeff Shuttleworth
September 26, 2007
Oakland Mayor Ron Dellums yesterday announced a joint venture between Shorenstein Properties LLC and MetLife Real Estate Investments to develop a new 500,000-square-foot office tower in the City Center area in downtown Oakland.
The development will be the first new building in Oakland's City Center since San Francisco-based Shorenstein built 555 City Center Tower at 12th and Clay streets in 2002.
In a statement, Dellums said, "This is a tremendous opportunity for our city to demonstrate what can be achieved through collaboration. It speaks to the economic vitality and innovation the city is encouraging from all sectors of business and industry."
The new building will be developed on a block bounded by 11th Street, 12th Street, Jefferson Street and Martin Luther King, Jr. Way.
The building is being designed by Ted Korth of the architectural firm Korth Sunseri Hagey in San Francisco.
The project is currently in the design approval phase.
Tom Hart of Shorenstein said the joint venture plans on breaking ground in the spring of 2008.
Hart said, "We look forward to working once more with the city to deliver another world-class building to downtown."
City officials said the venture between MetLife and one of Shorenstein's real estate investment funds will jointly own and operate the building, with Shorenstein providing leasing and management services.
The partnership's plans call for construction of a "green" building.
Although the exact details of the development are still to be decided, the partnership said it will seek an environmentally-correct certification for the finished project that would make it the largest privately-owned green office building in downtown Oakland when it's completed.
Oakland's City Center development is located directly above the 12th Street BART station and two blocks from Interstate Highways 980 and 880.
Oakland officials say it is a focal point for commercial and government activity in their downtown area.
Oakland's City Center encompasses more than 3.5 million square feet of office space and includes 18 restaurants and food outlets, more than a dozen retail shops and services, an athletic club and parking for 2,840 vehicles.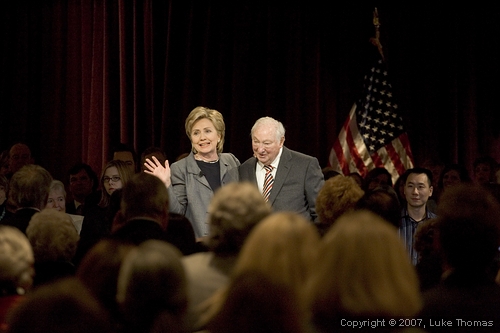 Shorenstein Properties LLC founder Walter Shorenstien with Hillary Clinton.
Copyright © 2007 by Bay City News, Inc. -- Republication, Rebroadcast or any other Reuse without the express written consent of Bay City News, Inc. is prohibited.
####