PG&E power plant collapses during demolition
One dead, two seriously injured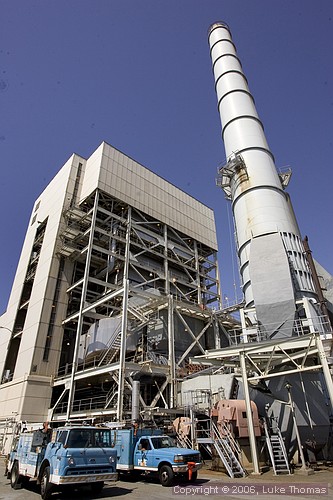 One man is dead and two other workers were seriously injured today
after a four-story boiler on the South-East corner of a former working PG&E power plant
in Hunters Point collapsed during demolition.
File photo by Luke Thomas

By Ashley Wright
January 28, 2008
One person is dead and two have been injured this afternoon by a four-story high boiler that collapsed in a former Pacific Gas and Electric Co. power plant, trapping three people who were working to demolish the old building, fire officials said.
Firefighters are still working to rescue the last construction worker stuck under the large metal apparatus in the building at 1000 Evans Ave. in the city's Bayview District, fire spokeswoman Mindy Talmadge said.
One of the workers was extricated almost immediately after the noontime accident, and taken to San Francisco General Hospital with life-threatening injuries, Talmadge said.
A second worker located was pronounced dead, she said.
Fire officials have not confirmed if the last person stuck under the wreckage has been rescued and have not determined the extent of the worker's injuries.
Construction crews were trying to detach the four-to-five-story high boiler and surrounding metal beams before the accident occurred, fire spokeswoman Mindy Talmadge said.
Only three members of the construction team were crushed, Talmadge said. All others have been accounted for and no other injuries were reported.
PG&E spokesman David Eisenhauer said that he is not sure who owns the building, but said work on the property is conducted by hired contractors as well as PG&E workers.
Eisenhauer said the utility company is aware of the accident, and added that officials are working to make sure that the structure is safe and stable.
"Our main concern right now is the folks we hear were injured," Eisenhauer said.
####